by Emma Baker

The typical Parade sponcon looks like this: A racially ambiguous young woman kneels before a mirror, nude save for a cropped hoodie, neon eyeshadow, satin gloves, and a pair of high-waisted, mega-bright briefs. In the background, we get glimpses into her cozy-sexy lifestyle: an animal print rug, a Monstera houseplant, a disco ball, a fluffy, unmade bed. The photo is unfiltered, her body unretouched; in the caption, she lovingly calls attention to her "thighbrow" or "tummy." Hers is a safe space full of loudly-proclaimed self-love, notably absent of subtlety. If the vibe is hard to pin down, it is because it's ubiquitous: with so many faddy signifiers of wokeness slapped together, Parade's manufactured boldness fails to garner any real intrigue. Actually, it just looks like botched AI.
Nevertheless, over the last several weeks, mass-market fashion-adjacent outlets from The Cut to Elle to NYT Styles have become fixated on decoding Parade, the direct-to-consumer underwear company that has exploded on Instagram in the past few months. To be sure, Parade is one of the most successful Gen Z brands on the public radar, having earned $10 million in revenue in its first year. But the preoccupation with the brand's alleged market disruption—and by extension, its cool factor—seems to presuppose Parade as a generational tastemaker, failing to consider that the company is simply following the political and aesthetic template that has been laid out for it.
Parade was founded in 2019 by Cami Téllez and Jack DeFuria, two 22 year-olds intent on, according to their website, "rewriting the American underwear story." Tellez has said that she aimed to upend the market space left in Victoria's Secret's wake. And outwardly, at least, the brand has loudly differentiated itself from other long-standing intimates brands. As opposed to other self-described underwear revolutionaries such as Spanx and SKIMS, Parade does not advertise smoothing, cinching, or seamlessness. Instead, the $9, color-blocked thongs and boyshorts—with palette names like "Maraschino," "Party Trick," and "Bite"—promote comfort and self-expression (much like, it should be noted, Rihanna's Savage X Fenty line, which debuted in 2018).
Parade has also taken several ethically-minded—though somewhat obvious and reactionary—steps to circumvent the criticisms leveled at other women-owned, Instagram-first companies. From the get-go, they've offered XS-3XL sizing, worked with models of all colors and sizes, committed to using 85 percent recycled material and compostable packaging, and pledged to donate one percent of all proceeds to Planned Parenthood. And, although the brand has partnered with several big-name celebrities (Ashley Graham, Lourdes Leon), it has primarily gained clout via a lower-level, more organic feeling web of meme heiresses, comediennes, and other online It girls (Rachel Sennott, Patia Borja) who promote the brand in exchange for gifted merch, another move that initially seemed to differentiate Parade from the oversaturated influencer ecosystem.
But while such a micro-influencing strategy can feel dizzying in its insidiousness—it's uncanny to see a brand suddenly appear in every corner of one's network—it is far from new. In fact, brands across categories and market tiers (Bumble, Mejuri, and Daniel Wellington being among the most conspicuous) have turned to smaller account partnerships in recent years, often adopting similar product gifting programs in place of actual monetary compensation.
Given all of this, Parade exists less as an enigmatic trendsetter and more as the de facto case study into the current wave of what we might call "exposure feminism," wherein progressivism is signaled through hyper-sexualized, lo-fi imagery designed to communicate both a behind-the-scenes authenticity and a post-ironic sex-positivity. It's an aesthetic posture that's become popular in personal posts over the past few years, but Parade may be the highest-profile company to incorporate it so explicitly—and so un-discerningly—into its marketing schema, in an attempt to reach the archetypical Gen Z Cool Girl.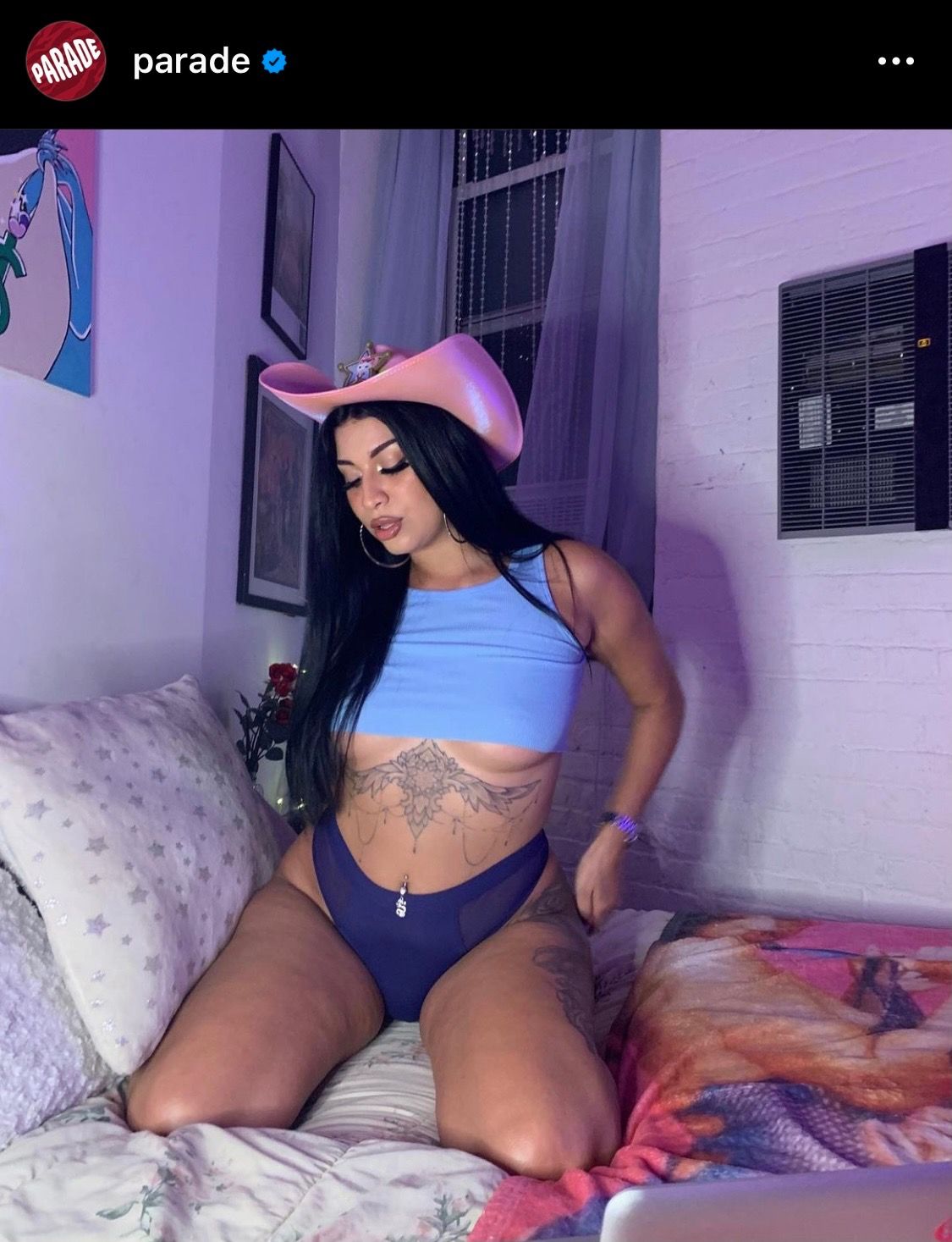 As evinced by the brand's engagement, media attention, and skyrocketing sales, Parade has successfully capitalized on this quasi-political look and feel. But it remains to be seen whether the company will actually come to define its generation's visual tone, as Glossier did for millennials. And, for that matter, it's worth considering just how much runway this particular approach has left.
For Parade, a brand built on its IYKYK online presence, a key struggle will be figuring out how to maintain cultural cachet as Instagram continues to reveal itself more explicitly as an online mall (read: as we collectively lose interest in it). This all points to a larger question for the future of influencer marketing, which has, particularly in the past year, become stale. Regardless of whether the work is paid, attaching oneself to brands in 2021—through shoppable posts, tagged accounts, discount codes, or even location tags—exposes a certain dated-ness. Now that the idea of protecting one's data is a mainstream concern, such self-commodification feels a bit craven; this political shift, in turn, trickles down into aesthetics.
After a decade steered by identity politics, reality television, and social media shame-busting campaigns (think: #FreeTheNipple), a renewed cultural appetite for mystery and modesty might make sense. So, for brands like Parade, who understand themselves as cutting edge, keeping up may mean mirroring and cultivating this attitude by moving completely offline.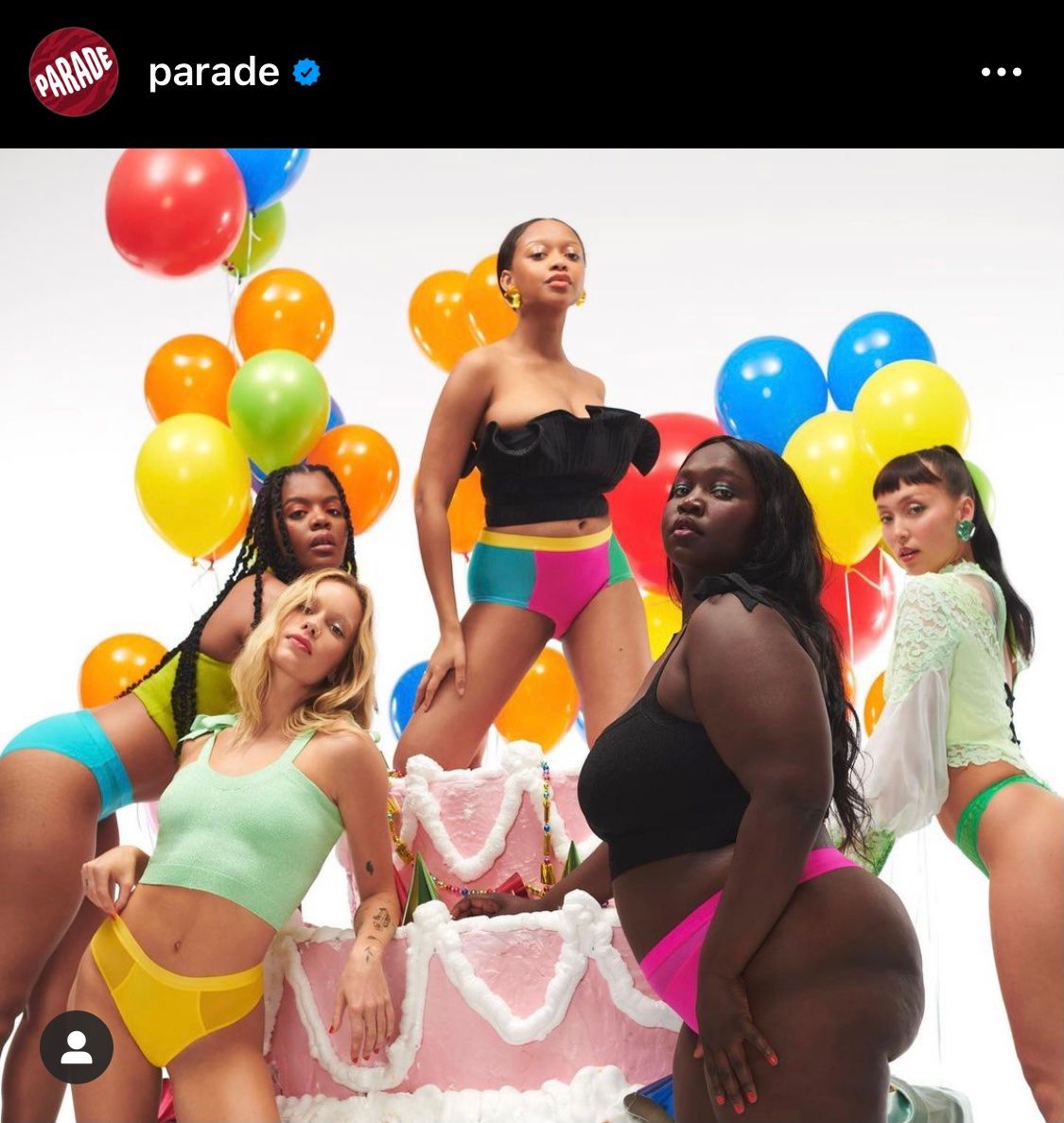 It's already happening. In early January, the luxury brand Bottega Veneta deleted all of its social media, an apparent PR move that valued absence over exposure. While Bottega is, obviously, opposite from Parade in both price point and sensibility, the brand has similarly garnered popularity among the moneyed Gen Z class, particularly since Daniel Lee (formerly of Celine) took over as creative director in 2019. The choice to move offline, then, suggests Bottega's intent to distance itself from the larger influencer aesthetic, and may also point to a coming wave of so-strategized demand generation down-market.
Taken together, the future of Parade looks very different from what the initial discourse portends. Despite the brand doing all the right things (heralding the right causes, partnering with the right people), coolness somehow seems to elude it. Going forward, it will take a heightened level of cultural attunement, both in aesthetic texture and actual social mores, to keep the brand appealing—especially if it wants to continue to position itself as a "grassroots movement of radical"-ism.
As it stands, there isn't much left to parse: Parade has quite literally shown its ass. While the brand's genre of identity-driven exhibitionism may have been welcome in an earlier cultural moment that placed a premium on personal visibility, privacy is hot now. And so, it looks as if Parade has arrived late to its own game, touting a revolutionary ethical framework that has already been outmoded. Perhaps there is only one card left for Parade to play: re-seal the nudes and consider the idea that real seduction often blooms in obscurity.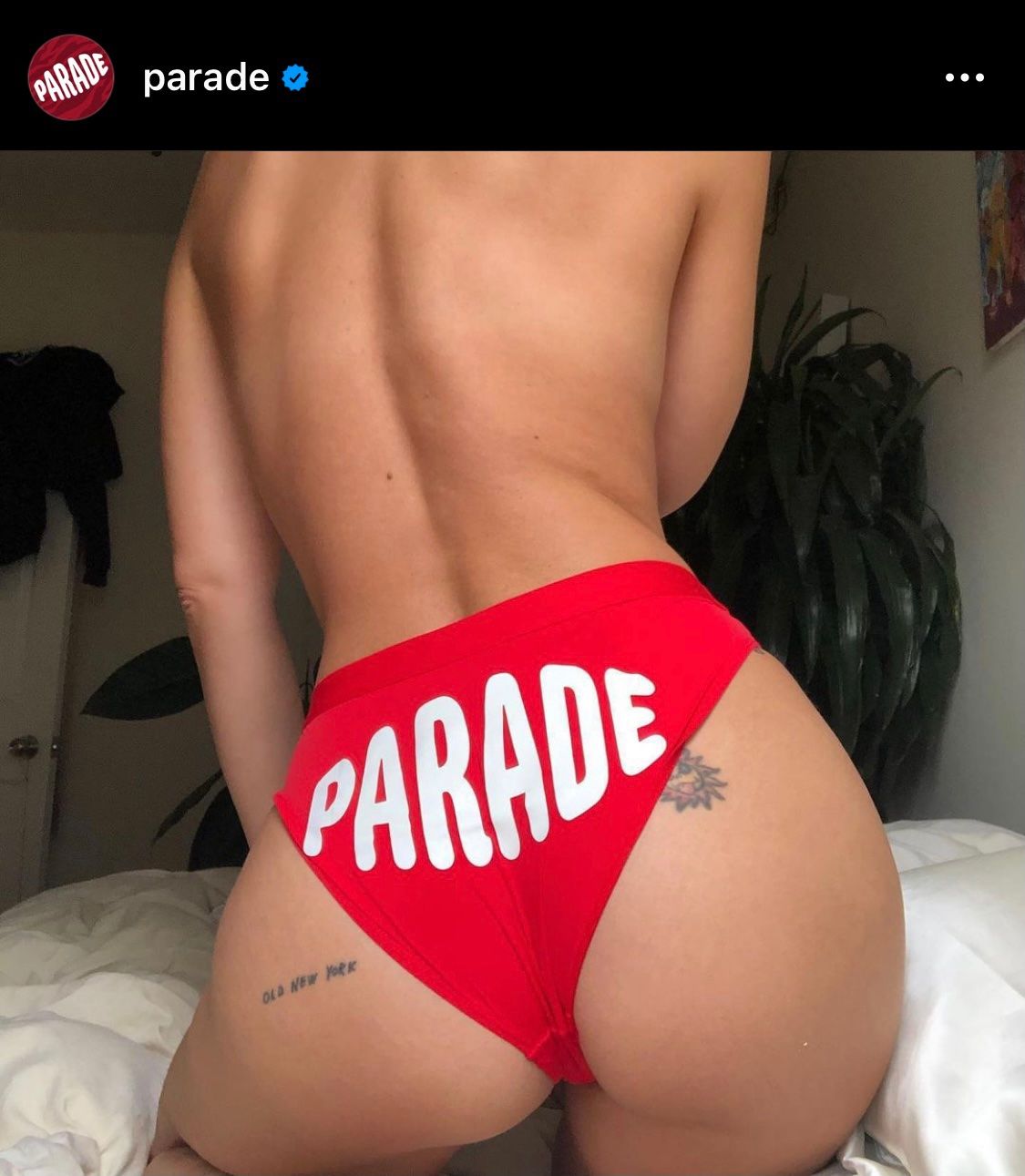 ---
Get to know Emma better: @emmagigabytes.
---