by Annie Lyall Slaughter
At a Grand Army Plaza bus station in Brooklyn, just north of Prospect Park, passersby are confronted with a photograph of a hyper-sexualized Cleopatra. The image, shining and radiant in its editorialized flare, overtly mimics the beauty industry's seductive portrayal of women in advertising. A nude Martine Gutierrez throws her chin in the air as the sensual curvature of her back glows from a beam of light at the center of the camera's frame. Surrounded by black and gold sheer drapery, she wears a wig fashioned from a tarp, fastened under her chin with a thin rope. Though her thick eyebrows, cat-winged eyeliner, and luminous skin appear professionally styled, a closer glance reveals the paint-chipped neighboring wall, makeshift materials, and a minimal aesthetic. I am not who you think.
If you haven't noticed Martine Gutierrez's jarring, evocative, gender-defying photographs, take a closer look next time you step outside your door. Her new project, ANTI-ICON, blurs the boundaries between art, activism, and advertising, bringing her message to the streets. In ten photographs installed across 300 bus shelters throughout New York City, Chicago, and Boston in late August, the transgender Guatemalan photographer and performance artist becomes a chameleon: an eye-catching, norm-shifting femme fatale. The images will be on view until November 21.
Commissioned by Public Art Fund, ANTI-ICON is only Gutierrez's latest platform for self-expression in a body of dynamic, experimental work that spans nearly a decade. The 32-year-old iconoclast's work has been exhibited widely across the U.S., and she's typically her own subject. Gutierrez challenges social norms such as gender and consumerism as she reimagines trans identity and reclaims indigenous culture. Her true intentions often remain elusive. Sometimes we see her as a deer in the headlights; other times, she poses boldly and with conviction, flaunting her defiance. Either way, we can't help but feel duped by her performative behavior—is she mocking us or truly embracing the persona?
By embodying the very tropes she resists—a trout-lipped, ass-crack-revealing model (MARTINE GUTIERREZ: JEANS, 2016), a redhead bimbo housewife who doubles as a sex doll (Real Dolls (Raquel 1-4), 2013), an obsessive, directionless woman (MARTIN(E).TV, Pt. III, 2012-2016)—she subverts our preconceived notions of her subject. The androgynous can have a flare of femininity just as the voluptuous female figure can have an androgynous edge. A woman may feel alien in her own home just as the revered model might abhor her own fame. Gutierrez will continue to reinvent beauty for as long as her creative genius evolves.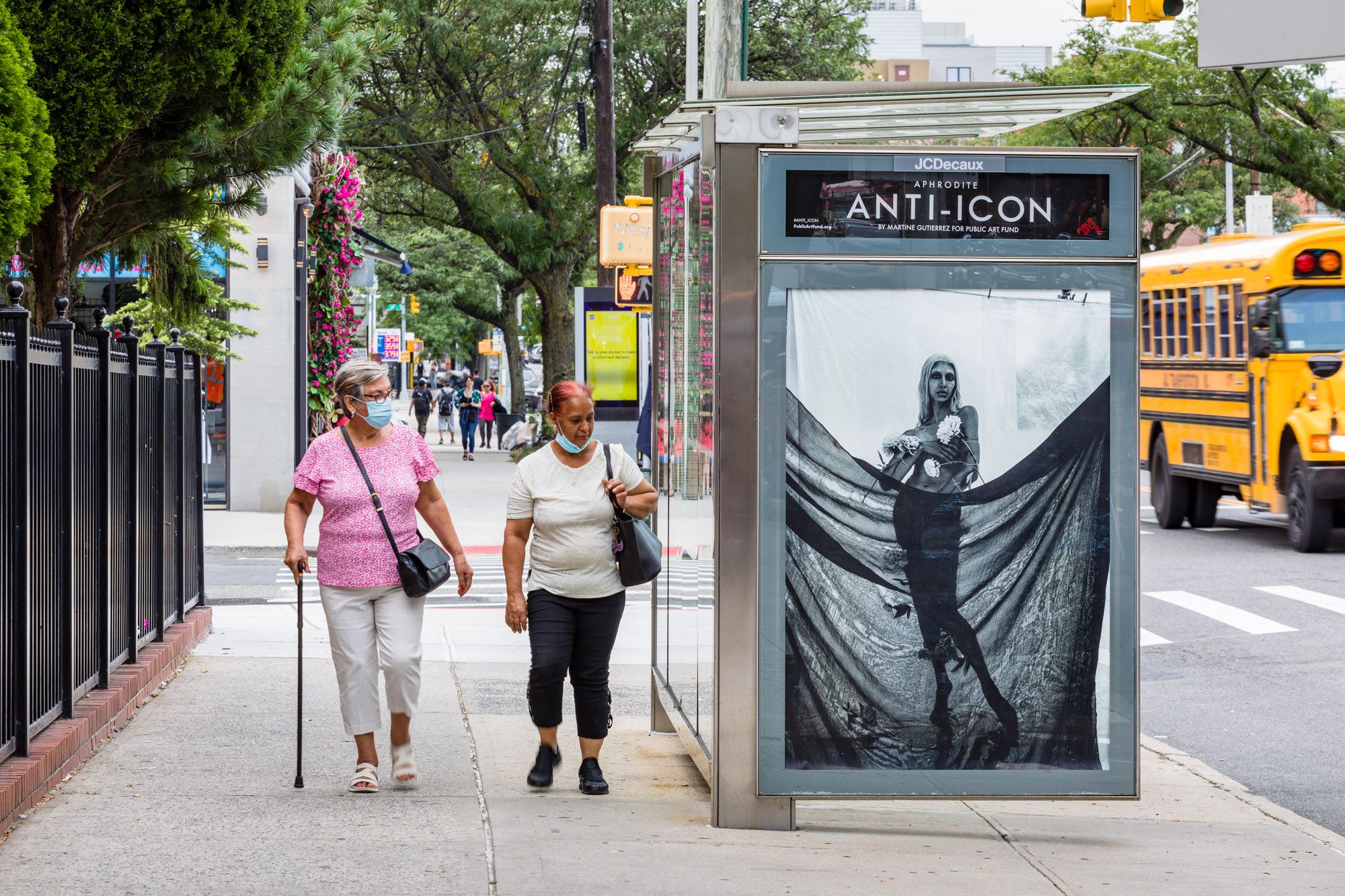 ---
In an inconspicuous South Bronx bus shelter at Prospect Avenue and 152nd Street, catty-corner from Seis Vecinos restaurant and across the street from a fire station, a mischievous, sensuous Gutierrez appears as the Queen of Sheba. The black-and-white palette seems unobtrusive at first, but a second glance reveals the image's undeniable allure. Our eyes are called to the sharp, delicate lines of an ornate peacock feather headdress occupying the upper half of the frame, while simultaneously subjected to Gutierrez's indignant, dead-on glare.
Sheba turns the heads of firemen and restaurant-goers alike. Passersby are seduced by the neat half-circle seam under her breast and the gentle folds of flesh at her rounded hip, yet equally as fearful of her power. Perhaps this Queen of Sheba is not so interested in Solomon's wisdom, not so easily tricked into his bed. Perhaps she is the trickster in this instance. What tales can I tell? What truths can I impart to him? Surely he is curious as to what lies beneath the sheer drape masking the contours of my figure...
In ANTI-ICON, Gutierrez wears wings and crowns, bodices and face paint, and adornments crafted from nets and wire. She poses as historical rulers, fictional folk characters, and religious idols, figures whose stories demand radical revisions. Gutierrez questions the common representation of each icon by asserting her own. You, too, can rewrite the past through the lens of the present.
The project began when the pandemic took hold, galvanizing Gutierrez to use easily accessible materials to aid her transformations. Whether as Mulan or Helen of Troy, Aphrodite or Judith, Cleopatra or the Queen of Sheba, Gutierrez arrives like a thunderbolt, rupturing our ideals of luxury, fame, and beauty. Who says papier-mache isn't sexy? Who says cardboard can't give you wings?
Gutierrez's artist statement for the exhibition is a rallying cry for the "collapse of the pedestal," a call for celebration of the anti-icon who is "neither celebrity nor darling, but a symbol martyred." Presenting these works in public advertising spaces that receive thousands of daily views effectively situates them as campaign images. By removing labels, pronouns, and accompanying language, Gutierrez suggests there is no wrong interpretation; no framework, guidelines, or rules to follow. ANTI-ICON operates within a "hegemony of definition and image undone," the artist writes. Who says angel Gabriel can't be trans and hyper-feminine, fierce yet sultry, a personally styled yet polished woman?
Gutierrez is as much a writer as she is a visual artist. She plays with words as she plays with sex-dolls: respurposing widespread slogans, exploiting their rhythms, spilling her own truths. Her anti-icons exude a "beauty we covet and fear, censor and mourn, envy and punish," she writes. Yet they are "daddy's deities," their power undermined by men who view them as sex objects. "Perched on the rocks of sirens," their unsteady foundation is in peril. Gutierrez's mission, her command, is to give them their footing and let them be. Praise Lady Godiva for embracing her gender expression. Accessorize Aphrodite in twigs. Clothe Mulan in plaster and set her free. Be who you aspire to be.
ANTI-ICON draws on our ever-changing notions of feminine identity and beauty, proudly reminding us that female icons should never be trapped inside their historical narratives. Martine Gutierrez proves we are all capable of empowering ourselves and worthy of reveling in our own power. Yet she simultaneously casts doubt on society's capability for such an awakening. After all, only commuters who are not glued to their devices will register Gutierrez in the JCDecaux frames. Even those who do notice might fail to observe the small pink Public Art Fund logo alongside the artist's name and emboldened ANTI-ICON typeface. The vast majority will merely internalize another sexualized female subjected to the male gaze, another stylized editorial photo produced for mass consumption, another model monetized, another token of industry power.
---
Annie Lyall Slaughter is a writer based in Manhattan currently pursuing an M.A. in Cultural Reporting and Criticism at NYU. She writes on art, politics, and overlooked communities. Get to know her better: @annielyall
*Lead image: Martine Gutierrez, ANTI-ICON, Cleopatra, 2021 (Courtesy of the artist)
---