by Gem Murray
When I arrived in Philadelphia with my Jenga-stacked U-Haul, I didn't anticipate needing more than a few trips to Ikea. Once I cleared the unsightly sprawl of Sterilite containers and cardboard boxes obscuring my vision, the empty space reminded me of the loose ends I never tied, too distracted by the frenzy of figuring out how to get myself five hundred and thirty-five miles away from everything I knew. Vexed by the ruins of my live-in relationship, and prematurely jaded about work, I channeled my remaining vitality into curating the appearance of my home.
The preliminary process of furniture hunting on Craigslist or Facebook Marketplace is potently invigorating. Reading relentless notifications, saving search terms in my Notes app, and revisiting my Pinterest board titled "dream home," generating a bounty of digital detritus. A specific kind of madness emerges when one becomes too invested in realizing their interior design fantasy.
---
I.
The top left half of the slatted sideboard opened on a hinge to display a compact turntable. Charmed by the elegance of its spindle legs and gold knobs, I messaged Barbara H. to settle on a time to view what became my first acquisition. When I arrived at the single-level ranch home in Northeast Raleigh, her sister Jean greeted me and hurriedly explained that Barbara was busy moving the rest of the furniture out of the house. It had been their mother's house, and they were trying to get it "all taken care of, finally." She trailed off in a way that reminded me of phone conversations with my aunt or Nana that would dwindle but were still too premature to end. Jean removed her sunglasses, letting them swing on a Croakie as she led me into the house.
I downloaded Nextdoor hungering for human connection, too afraid to enter the homes of my closest acquaintances. In my mind, it felt safer to encounter strangers on porch pickups than to have a friend over for dinner. I did not want to go inside the house, but I held my breath and anxiety and followed Jean into the bedroom. She helped me carry the sideboard to the driveway, where I realized I had vastly overestimated the spatial capacity of my Honda Civic. For a moment, I considered leaving it behind, but Jean politely insisted on giving me bungee cords to secure it in the open trunk. She shrugged off my offer to mail them back and fanned herself too gently to provide any relief from the Carolina sun. I drove home on suburban backroads, stretching a ten-minute trip into a half-hour one, checking my mirrors at every stop sign. I still have the bungee cords.
II.
Nudged by the premature regret of leaving the comforts of a domestic relationship, I sought to replicate the luxuries my partner and I enjoyed by convincing my soon-to-be roommates that an Apple TV was an absolute necessity. (Cohabiting with an Apple fanboy tech professional, you get used to a certain standard of living.) Tired of arguing with me over apartment matters, they let me have this one with little resistance.
I met David on the front porch of his historic bungalow in a tiny pocket of desirable real estate tucked between North Carolina State University and downtown. Raleigh was a college town, which was all the more reason for me to leave, having just graduated. The houses had rose and hydrangea gardens and foliage that proved this really was the city of oaks. David had a professorial style, and peering through the open door, I could see crowded built-in bookshelves that added to the image I created of him as a shining star of literary dinner parties. As we chatted, he revealed he was an engineer and had once spent time in both Charlotte and Philadelphia, my hometown and the city I was off to. Of course he was an engineer, because what kind of professor has four brand new Apple TVs collecting dust? Empty nesting, he explained: His daughters had moved to the West coast, leaving him the loneliness of empty rooms and unused streaming devices. The transaction went through, to David's surprise, revealing his prior skepticism of money transfer apps. He wished me luck in my endeavors and I headed to my car, wondering if I even had an HDMI cord.
III.
Quickly, I came to terms with the necessity of owning a dresser. Rolled up t-shirts had overtaken the deliberately designated negative space I created on the bookshelf. I roamed the listings, hoping that organizing my clothes into drawers would yield a psychological tidying as well. A dresser could signal I was getting it together—finally, after a year of stifling stillness.
What I found was not magical or perfect, but it was easy to disregard surface flaws once I'd invested enough in the delusion that a piece of furniture could satisfactorily tame my anxiety and self-doubt. I met Zaina in her third-floor studio apartment in Germantown, Philadelphia's enchanting historic enclave. The dresser stood wedged awkwardly between the kitchen and the couch. A knob was missing and the burled wood suggested someone had attempted an overambitious restoration. In any other situation, I would have negotiated, but Zaina's glistening curls and warm voice charmed me as she told of the dresser's history in her family. I would have flirted more had I been less sweaty after hauling it down three flights of narrow, steep stairs. I thanked her one too many times and looked over my shoulder as she walked back to her apartment.
IV.
Bob possessed an unusual item: an antique wood and cast iron school desk I imagined would make a clever dual entry table and seat. The American Seating Company made the desks en masse in the early 20th century, and they had become notoriously difficult for antique collectors to sell, lacking the versatility of more coveted items, like a roll-top secretary desk or a Victorian armoire. He lived in a quiet, geriatric subdivision of Philadelphia near a regional airport, and was delighted to find someone willing to overlook his desk's ubiquity—or he was just eager to make an acquaintance. I couldn't blame him; I was happy to be distracted by the frivolous interaction. Every word stole a moment from the misery of recurrent thoughts. Should I have stayed? What am I going to do with myself? Is one ever truly "whole"?
At the height of last summer's heated misery and historical racial reckoning, people began to shift into new dimensions, using words they hadn't heard before and declaring hyperbolic dedication to causes they hadn't known existed. I was both a witness to and willing participant in the sanctimony of being an armchair revolutionary. I let my convictions fall away as evidence piled that while people were inherently problematic, they had earned the right to be (in some ways), having endured the affliction of an entire lifetime.
I found this true of Bob. He made small talk about something he'd seen on Fox News and launched into a nostalgic recollection of how things "used to be." This casual ignorance and masked disdain for younger generations would usually irk me, but it didn't matter as we paused from our hurried daily lives for a brief transaction. My balloon of good will for the aging hobbyist slowly deflated as he indulgently carried the conversation past its expiration while his mask slid down until he removed it altogether. I became ill at ease as he asked progressively more personal questions:  "What do you do?" "Where do you live?" "What brought you here?" "You know people up here?" Seemingly oblivious to my brief, avoidant answers, he motioned for me to follow him into the garage to see if there was anything else I wanted; I declined the invitation and made an excuse to exit.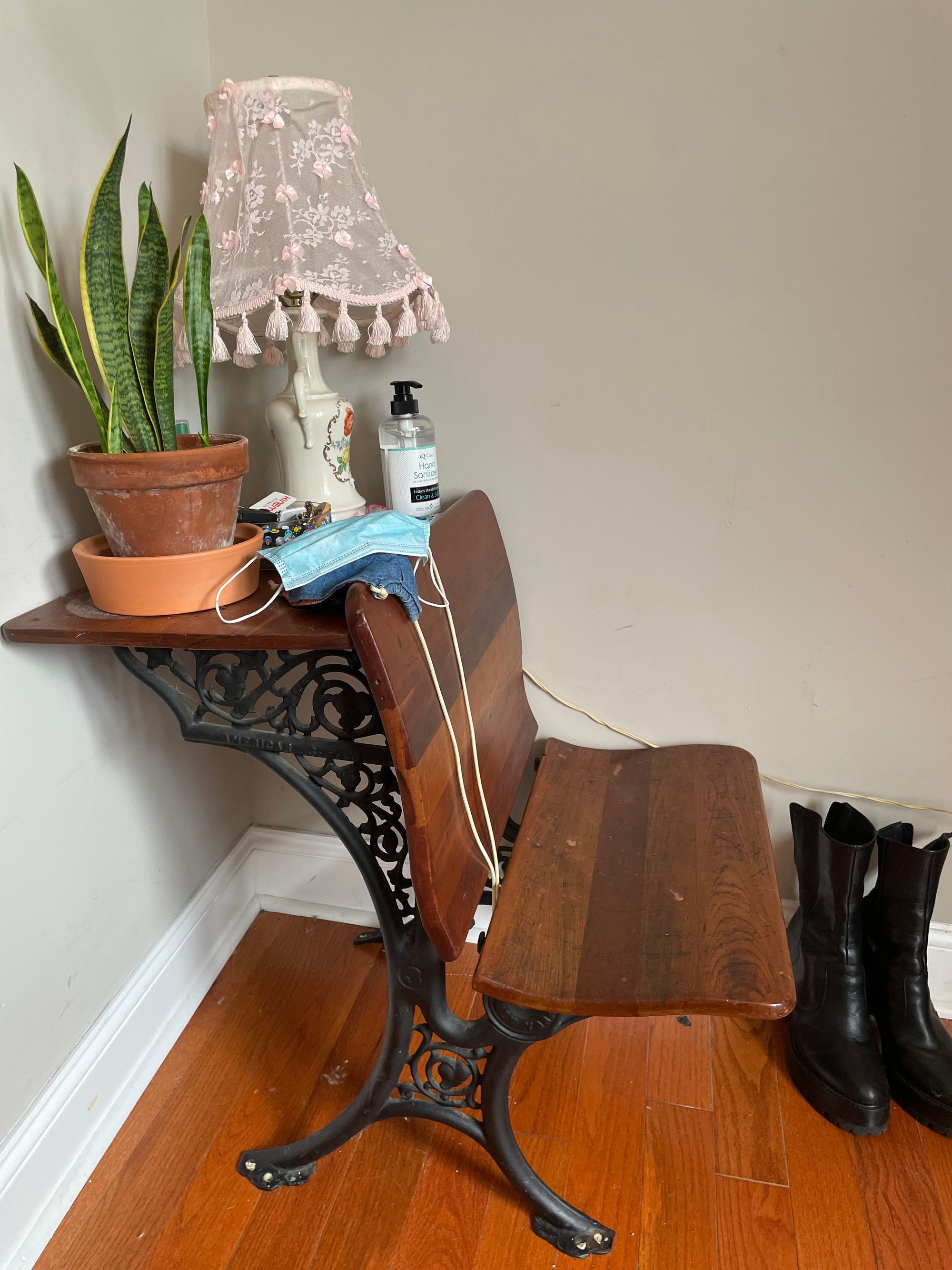 V.
Being uncomfortable was paradoxically soothing. Even unpleasant encounters with unsavory characters reassured me: People are terrible—nature is healing! This flimsy, twisted logic made it almost endearing when my roommate and I met Marie, a zany Italian woman we found patrolling her home in yoga pants, ordering movers around. My roommate and I drove up the Philadelphia Main Line, a bastion of old money, to Villanova for a red velour chair shaped like an open palm. The chair would have fit in on the set of the iCarly reboot, and its unruly form made it impossible to shove into the car. As we tried our best to rotate and push it into the backseat, Marie conversed with us in a humorous rhythm between shouting at the movers to "Be careful, that's fragile!" and "Can you make sure it doesn't get scratched?" When we gave up, she offered rope to help us tie the trunk closed. She reemerged from her house half an hour later with a ball of twine, and when we paid her, she kept the change, "for the rope."
---
I exchanged cash for furniture from sellers, but I also bargained with myself, replacing feelings of bitter isolation with the unbridled joy of getting a good deal. Grounding myself in the simplicity of dollar values—and blanketing the experience with the excitement of new faces—I learned how to appraise my life as  I would an intriguing listing.
Filling in the gaps as needed, the apartment took shape as more than a place to sleep and eat Trader Joe's frozen pizzas or char siu baos. It evolved from  a blank canvas into something more like a launchpad, but not quite a nest. In March, when it became reasonable to have a few guests, I traipsed through the place, pointing out all my acquisitions with the narratives I'd gathered from my encounters. My friends complimented my aesthetics and thriftiness, but any sense of approval felt hollowed of meaning. Not wanting to seem overly sentimental, I satisfied myself by sinking into the intimacy of memory.
The companionship of strangers—and my roommates—could contain me only for so long, so I struck out looking for something (or someone) to pass the time. As I began dating again, I found myself longing for the transactional acquaintances I made with sellers last summer. The experiences were both more direct and more textured than sitting across a table and asking someone if they had any hobbies. Dating was a wholly languishing affair, but I kept one eye open, allowing someone who claimed they were also motivated by the notion of "doing it for the story" to pique my curiosity. Against my pessimistic instincts, I indulged the moment and decided to give it a shot. It was only drinks after all.
"I'm moving soon, so, lately I've been spending a lot of time on Facebook Marketplace," my date said.
I perked up, then quickly tried to conceal my attention. "Here's what you gotta do," I replied.
I launched into a recounting of my own adventures, passing along acquired wisdoms, novel tips and tricks. It wasn't long before I found myself riding into an abyss of a furniture folie à deux.
---
Gem Murray (she/they) is a writer, creative dilettante, and aspiring public intellectual from Charlotte, North Carolina living and writing from Philadelphia. She's in the business of subverting the "cool girl" trope and will do anything "for the bit."  Get to know her better: @gemurrays on Twitter and Instagram
---