"Greta Garbo and Monroe/Dietrich and DiMaggio."
Written by Ben Driscoll
In the spoken word verse of Madonna's Vogue, there's an unmistakable power to her ice-cool incantations. "Marlon Brando, Jimmy Dean/On the cover of a magazine." Each famous name on her roll call conjures the style and grace of Old Hollywood. When they're uttered together, it becomes a bewitching seance.

Keeping Vogue's successful formula in mind, Ryan Murphy crams in a plethora of famous names from the Golden Era into his new Netflix show Hollywood. Though centring on mostly fictional characters, stars like Rock Hudson, Vivien Leigh and Noel Coward frequently pop up to muster a memory of the era's romance. Anna May Wong and Hattie McDaniel appear too – their experiences, alongside Hudson's, are used to depict the debilitating nature of showbiz for marginalised actors.

With a Tarantino-twist, Hollywood rewrites Tinseltown history to give each of the sidelined stars a happy ending. But happily-ever-after comes at a price: the vampiric show capitalises on the stars' victimhood, reducing the icons to mere symbols of their oppression. Rarely is the artistry of Hudson, Wong and McDaniel explored – a flaw that looms over the cloying, worthy show's runtime.

Netflix isn't the only studio using the power of icons' names to push their easy, nostalgic biopics. Amazon has just released Seberg onto streaming, a tepid Jean Seberg biopic with Kristen Stewart. It chronicles a tumultuous chapter of the transatlantic 60s icon's life as she aids the Black Panthers and becomes a target of the FBI. While Stewart simmers, the police procedural plot begins to thicken. It sinks the film. The Breathless star's image is wasted, used as but a glamorous segue into a mediocre FBI drama.

In their time, the celebrity of Rock and Jean were constructed through the layering of fantasy, rumours and images. Seberg and Hollywood, however, take on a modern mode of hyper-confession: revealing all and deflating the fantasy of fame into boring reality. I want films that further complicate the mythography, not simplify it.

******

Let me proffer an antidote: the video essays of Brooklyn-based underground filmmaker Mark Rappaport. With a truckload of home-taped classics, he uncovers Hollywood's hidden-in-plain-sight secrets: especially those of our underserved Seberg and Hudson.

Rappaport's Rock Hudsons' Home Movies (1992) was released seven years after Hudson's death, the first major celeb to die of AIDs. A strange video essay, it zooms into the films that built Rock's career, searching for his concealed queerness in the unstable fuzziness of a paused VHS. Hudson returns from the grave to re-inscribe each film he starred in with naughty confessions and queer readings.
Rock Hudson's Home Movies, 1992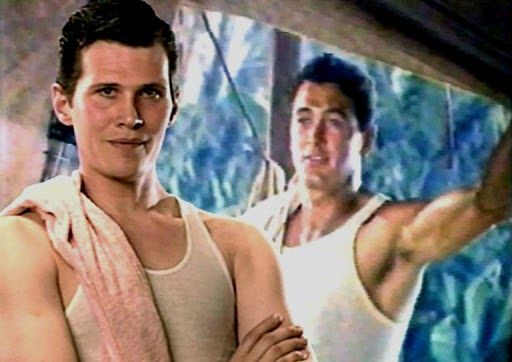 Hudson reincarnate is played stiffly by Eric Farr, who delivers lines like a porn actor. Much camper than Hudson ever was, it's a poor impersonation. But it works: Farr's changeling is a perfectly creepy fit as the living dead Hudson. He pops up green-screened in front of Rappaport's blurry recordings, his face clear against the bleeding bright colours of the VHS transfers – emanating a queer confidence that renders the heteronormative films vulnerable and changeable. Gay rights!

In just an hour, Hudson convinces us that he's banged nearly every male co-star he worked with. He freezes frames to highlight stolen glances of torsos, or points out heavy innuendo between him and, say, John Wayne. He even defiles father-son relationships: what was once a cute reunion with an on-screen son is now Hudson sizing up a twink. Rappaport's cheekiest reading, though, is of screwball comedy Man's Favourite Sport, where Hudson plays a kiss-shy fishing equipment salesman, who is – of course – scared of fish. Hudson barely has to explain.

Home Movies speeds through Hudson's filmography and life, and in an act of blasphemy, the star's unforgettable face becomes aged and mortal. When Rock starts to talk of his death, we see him die a million deaths throughout his career. Lovingly refolding Hudson's films, Rappaport invokes a haunting sense that all was foretold in the movies.

There's also Rappaport's From The Journals of Jean Seberg (1995), a moving love-letter to the actor who died tragically too – from presumed suicide. Like The Cryptkeeper of 80s horror anthologies, Seberg (Mary Beth Hurt) emerges to take us through her devastating life as she's passed from director to director: Otto Preminger to Godard, Romain Gary and beyond.

From The Journals of Jean Seberg, 1995

Rappaport's unwieldy visual style prises open chasms in Seberg's films, allowing her other performances to worm in. This permits her traumas to reappear throughout her acting career, from child star to French New Wave icon to bit-part ghost.

When we arrive at Seberg's last ever performance in a minor German film, she's not even given her close-up. "If it's true that the camera steals your soul, then mine had been taken long ago," she laments. Her face, far away, looks frozen like a death mask.

Both video essays might appear rough around the edges, but consider the dull sheen of Hollywood and Seberg and the imperfections feel essential. And if those two safe bets are the children of Netflix and Amazon, then look on Rappaport's strange films as ancestors to deep fried memes and weird YouTube videos. For the way Rappaport plays with the superficiality of pop culture, hand-moulds it and splits it open into something strangely moving can only come from the mind of an obsessive fan – not a faceless studio.

-----

Rappaport isn't the only queer stan out there making galling work on the ruins of fame. Todd Haynes' Superstar: The Karen Carpenter Story (1988) is an intoxicating short film that tracks the lead singer of The Carpenters' death from anorexia-related complications. The Carol director uses Barbies as puppets, notably whittling Karen's doll down until snappable. Lawsuits from Mattel and brother Richard Carpenter drew the film out of circulation, but a shoddy copy remains online and unmissable.

Superstar: The Karen Carpenter Story, 1988

Taking things forward to the Bling Ring era, video-essayist Will Rebein creates clip compilations under the moniker 'Party Like It's 2007', tracing the career paths of celebs like Britney and Heidi Montag. I'm Not Crazy (2018) obsessively assembles reportage, raw TMZ footage, interviews and tweets surrounding Amanda Bynes – documenting the 2000s child star's fame, haunting breakdown and consequential controversies. A decade's worth of showbiz gossip compressed into two hours, this film may induce anaphylactic shocks. First uploaded in 2015, the film continues to be updated with new, sadder developments. I feel so exhausted for Bynes.

Embed https://vimeo.com/121937858 here please!

•••••

Finally, now that MUBI have opened up their library, I want to recommend their Les Hautes Solitudes (1974). Philippe Garrel's recently restored, brashly experimental film gives Seberg her final close-up, five years before her death. With neither sound nor credits, the film shoots Seberg's face in harsh monochrome, and just about that. She's either performing or existing for the camera, whilst Garrel shoots what he calls "a film that never existed in the first place."

Les Hautes Solitudes boils down our fascination with a tragedy-bound star into its purest form: attempting to distinguish the vulnerable person from the vulnerable character. Team it with Rappaport's essay for an all-consuming, mysterious portrait of Seberg – I'm sure he's kicking himself that it wasn't available when he made Journals.
Les Hautes Solitudes, 1974
---
Check LONYC weekly our take on: film, food, fashion, politics, photography, music and creative writing. Follow us, feel the vibe @laidoffny.
Get to know Ben better, @lolbendriscoll  for all his latest film endeavours.
---