Words and Photos by Thomas Hengge
Normally he would sleep over at his girlfriend's house. The night before his father died, something told him to come home.
On March 20 at 4:30 a.m., Kyle Jackowski was jolted awake by screams echoing throughout his parent's Long Island home. It was his mother, Sally.
Bursting into the room, he found his father, Chris, sitting up on the bed, both feet on the floor, breathing rapidly, heavily, trying to catch his breath, delirious from fever hallucinations. Sally was frantically trying to figure out what was wrong with her husband.
"I jumped up out of a sound sleep and ran into the room, and he was hallucinating so bad that I thought he was having a stroke," Kyle said. "He was just mumbling, and I was asking him what was wrong. He was just looking right through me."
At first, Kyle and his mother tried getting Chris up to take him to the hospital, but his intense delirium and deteriorating condition made it impossible to get him out of the room safely. It was then that Kyle decided to call 911. But before he could rush downstairs and grab the phone, he heard a loud thud from the bathroom. Sally, overwhelmed by the situation, had fainted.
"I actually shouldered the door open. My mom was passed out on the bathroom floor. I got her on the bed, and that's when I ran into my brother's room," said Kyle. "I woke him up and told him about everything that was going on. And he came, and he helped me."
Kyle's brother, Travis, tended to his father and mother while Kyle ran downstairs to call 911. Kyle instinctually poured a glass of orange juice for his mother, associating her fainting with her blood sugar being low.
"I ran back upstairs and told my dad that I called 911," said Kyle. "He gained composure back for all of five seconds, and he looked at me and said, 'Why'd you do that?' Then all of a sudden, he went into a trance."
Kyle was trying to get through to his father: "Dad! Dad, what's wrong?"
But Chris couldn't answer; he couldn't breathe.
From downstairs, Kyle could hear the 911 dispatch call in real time from his father's volunteer firefighter radio in the living room. "Member in distress," said the voice over the radio repeatedly.
Paramedics arrived at the scene, getting Chris onto a stretcher, and proceeded down the stairs of the two-story home. They were halfway down when they started yelling that Chris was going into cardiac arrest. Quickly, they moved out of the front door, but one of them lost their footing when exiting the house, causing the stretcher to tip over.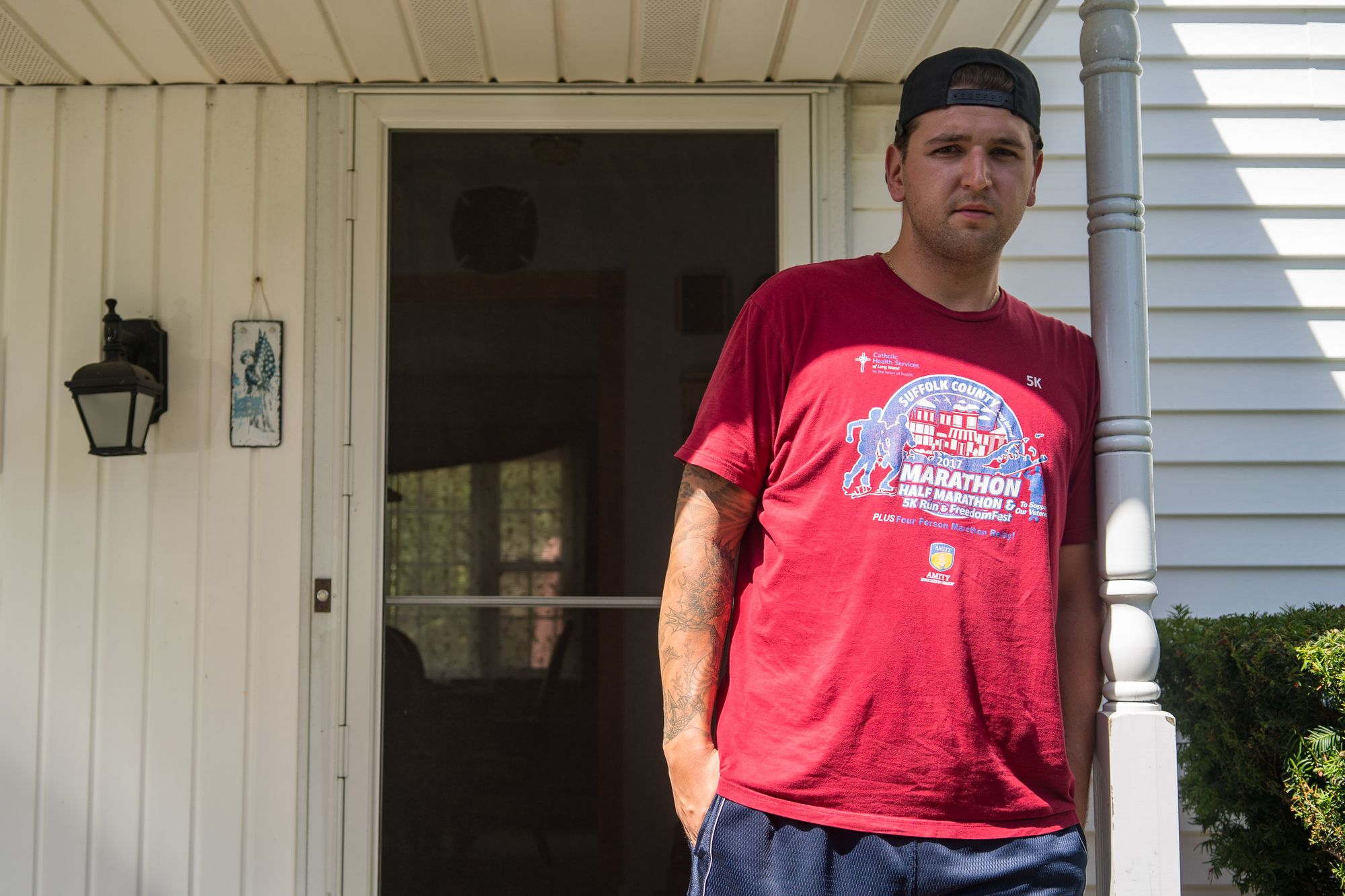 Chris hit the ground. The medics cut his shirt open and administered CPR in the driveway immediately. Kyle followed, shouting to his father to keep fighting.
"I was trying to shove my mom and my brother away from the front door as I was screaming, you know, I was yelling, 'Come on, dad, you got this. Come on,'" explained Kyle.
The paramedics were able to stabilize Chris and get him into an ambulance, rushing him to Southside Hospital. Kyle and Travis, in Kyle's truck, followed behind. Sally rode with a fire chief who responded to the call, one of Chris's longtime friends and colleagues. Lights and sirens blared as they flew down Sunrise Highway.
Upon arrival at the emergency room, the family was denied access because COVID-19 was overwhelming New York, and hospitals were locking down. It wasn't until the fire chief who worked with Chris intervened that they were permitted to go into a family room, while doctors tried frantically to save Chris.
"When I walked in, I just happened to look to the left, and that was the operating room," said Kyle. "I saw my dad laying on the bed, ten medics in there with the head doctor, and they were just shoving tubes into him."
Chris was pronounced dead 45 minutes later. He was 56 years old.
"I didn't believe it. At the time, in that moment, I was...I was shocked," said Kyle. "I remember standing up, and I just remember my hands shaking uncontrollably." He turned to his mother and brother. "My mom started to freak out, and my brother was just sitting there in the chair, like, shell-shocked," he said. "About 20 minutes later, you know, we all just got in the car and came home."
---
As the coronavirus began to make headlines in the United States, Chris Jackowski, a long-time Teamster working for Southern Wine and Spirits and a volunteer firefighter from Long Island, fell ill with what the Jackowski family thought was the flu.
It wasn't. It was COVID-19.
He was exposed to the virus while driving deliveries throughout New York City and New Jersey, routes he had been driving for over 20 years.
Six days later, the 56-year-old father of two and loving husband was dead—his name counted among the first 30 known deaths caused by the virus.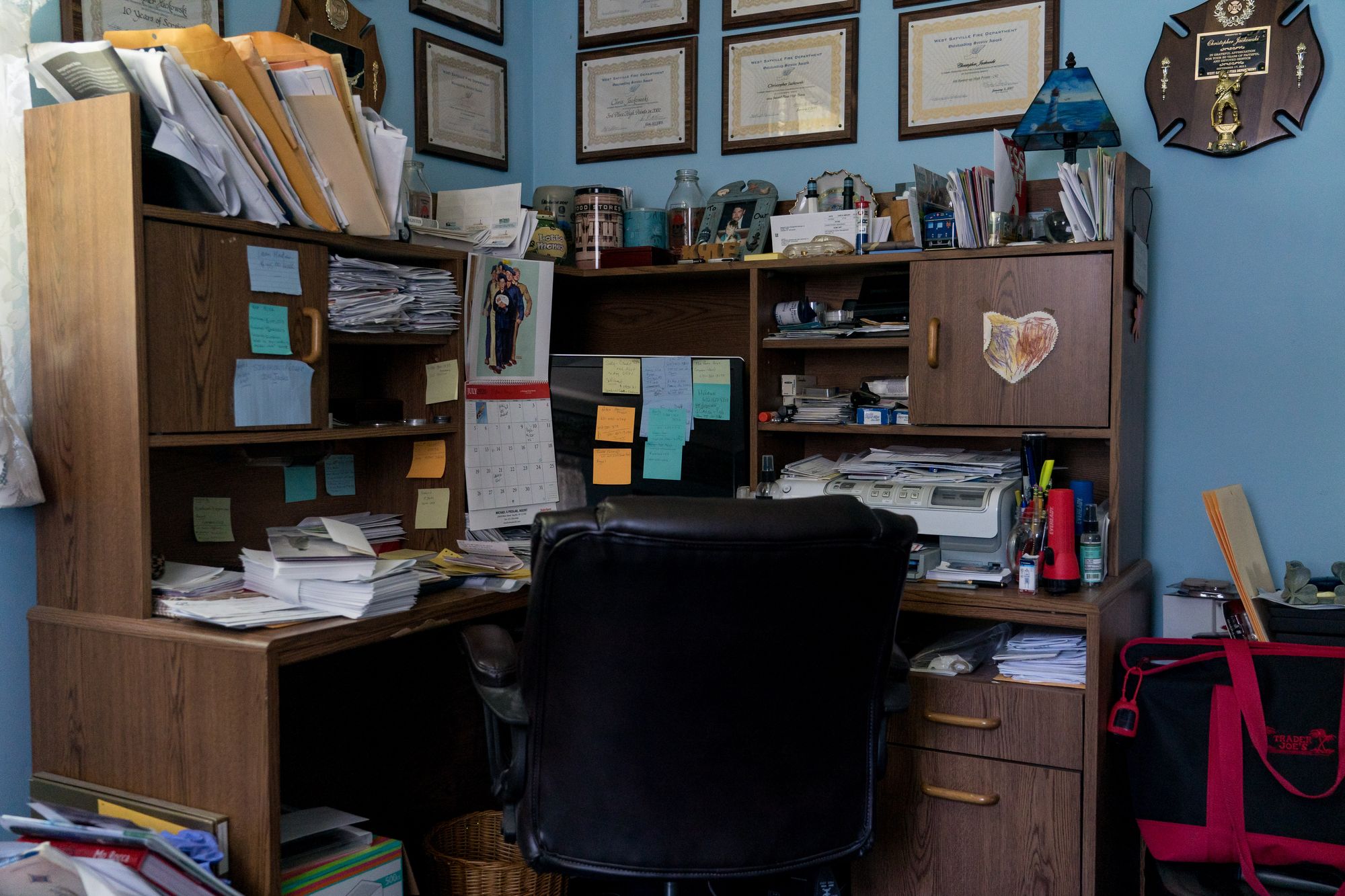 "We wanted to have a funeral," said Kyle.
Following Chris's passing, COVID-19 cases and deaths skyrocketed, and gatherings were prohibited by the state. Memorial services virtually halted, with new restrictions changing how families laid their loved ones to rest.
One funeral home agreed to hold a service for Chris, but for immediate family only, two at a time, quickly in and out to pay respects. It never happened. Everyone went into isolation.
Instead, Chris was cremated—an option offered because medical examiners were afraid of spreading the virus, which was still just beginning to increase and overwhelm hospitals across major cities and suburbs in the United States.
"My dad didn't even want to be cremated," said Kyle.
Without a service, Chris's sudden death left the Jackowski family in purgatory between tragedy and the new normal, grappling with personal crisis in a world spiraling into disaster. There was no pause to process what had happened.
"The world kept on spinning was what was screwing me up," said Kyle.
Chris was one of 29 confirmed COVID-19 deaths on March 20th, in New York State. Only 10 days later, that number shot to over 300. The state closed its borders to all nonessential travel.
In isolation, the grief lingered, quickly festering to the point that reality became distorted by unprocessed trauma. Like everything else it affected, the pandemic completely changed how people exercise grief after a loss. Without the ability to lay Chris to rest, the family had no tangible closure.
Life just continued.
"I felt anxiety. Anxiety and depression. I was feeling no closure," said Kyle.
With the world shut down and the virus looming, family and friends had no choice but to stay in quarantine for fear of catching and spreading the virus. The Jackowskis were left alone on an island to mourn. New social norms only added to the grief.
"We were having family come to the end of the driveway and just wave and cry to all of us without being able to hug them," said Kyle. "That was really starting to get to my head and messing me up."
Kyle, 26, and his brother Travis, 21, were robbed of decades of time with their father, the rock of the family and a figurehead in their community. Sally, 55, never imagined a life not growing old with the man she'd been with since childhood. Now, an urn containing Chris's ashes, marked with an American flag, was all they had left.
---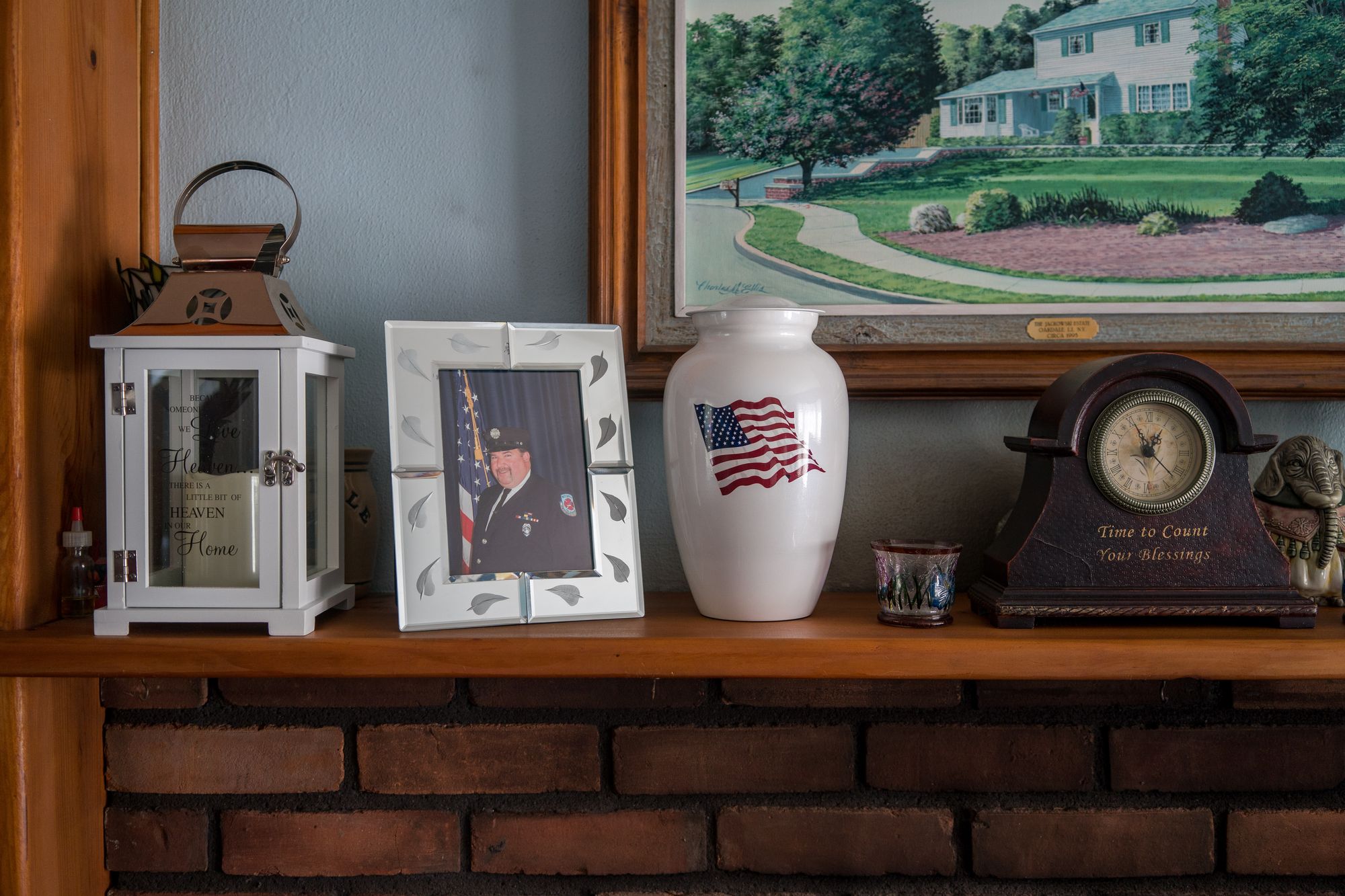 In a matter of weeks, New York became the world's epicenter for COVID-19 cases. Hundreds of cases became thousands, death a daily occurrence.
Kyle, Travis and Sally, all deemed essential personnel due to their jobs, went back to work, forced to push on without closure. Kyle went back to driving liquor delivery routes in New York City, the same job that exposed his father to the virus.
"I was just going to work every day, you know, just trying to make sure that my mom and my brother were okay," said Kyle. "Thank God everything was okay with the house, but definitely not going to let my mom do this alone."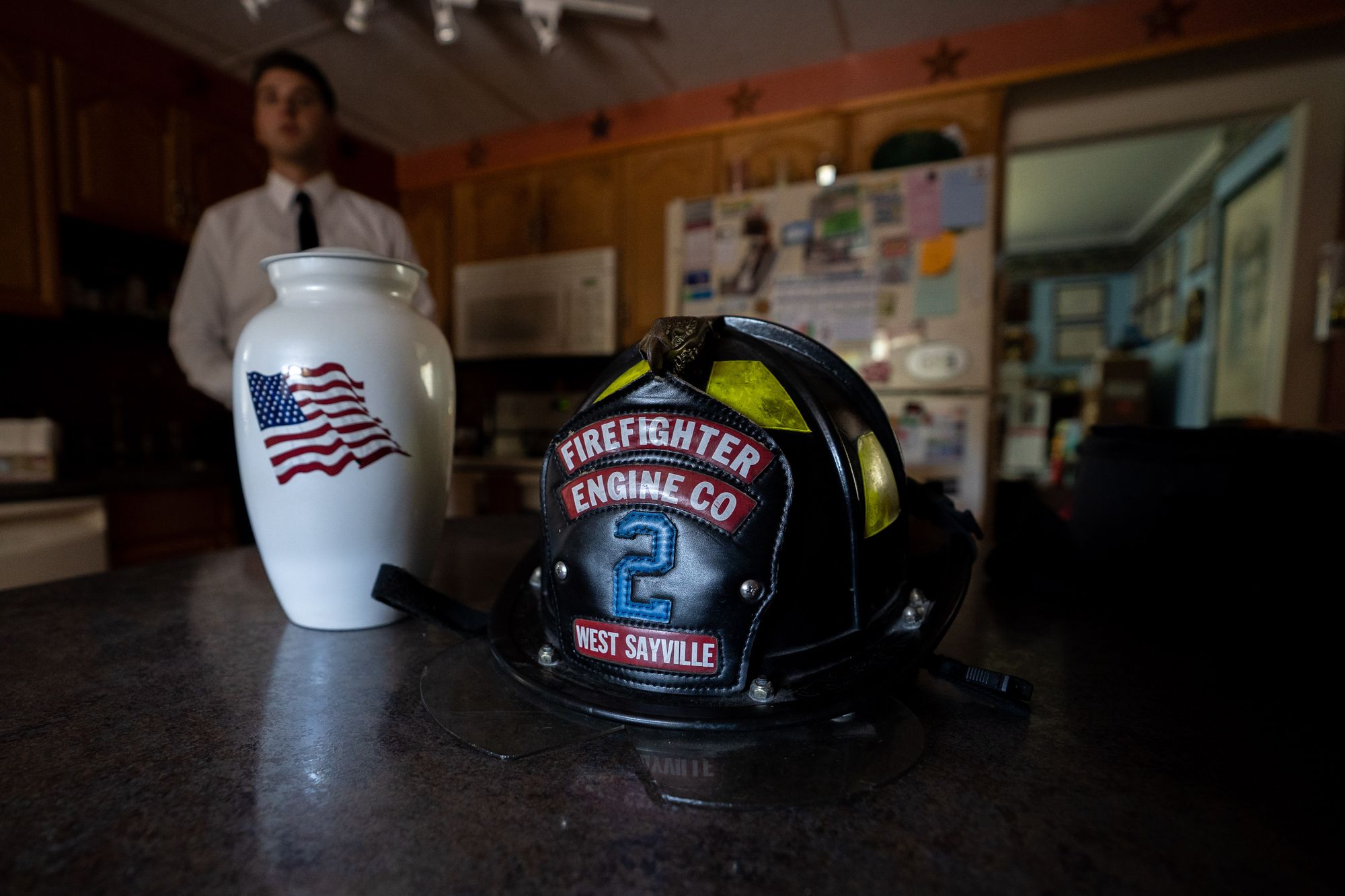 From March to the early summer months, COVID-19 ravaged New York State. But by July, after a dogged battle, the virus seemed to be under control, for the time being. Numbers had fallen, and the infection-rate curve had flattened enough to lift some restrictions on gatherings and businesses.
Despite fear of a second wave, this gave the Jackowskis a window to finally give Chris a proper send-off with family and friends. The West Sayville Fire Department, where Chris had volunteered for over 20 years, stepped in, offering the firehouse as the place to hold the ceremony.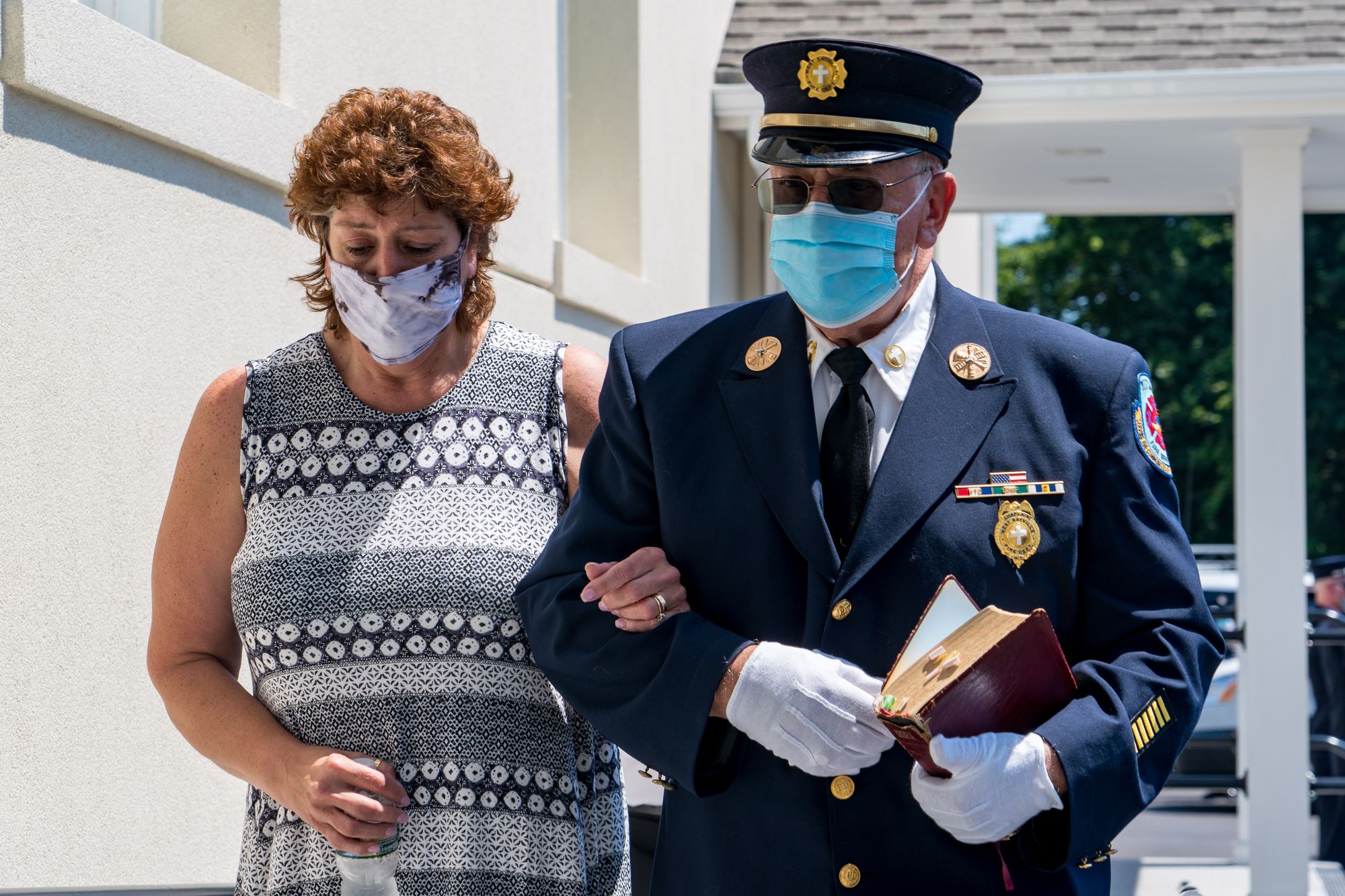 On the morning of July 25th, fire chiefs coordinated a surprise "final ride" for Chris, a symbolic event where Kyle, Sally and Travis, along with the urn holding Chris's remains, were driven around the neighborhood in a firetruck, complete with a full-department escort, concluding at the firehouse.
"To have had a funeral and to have had a service for him finally, I definitely did feel some sort of closure, and it was great to finally see my family," said Kyle. "Some of them, I haven't seen until now."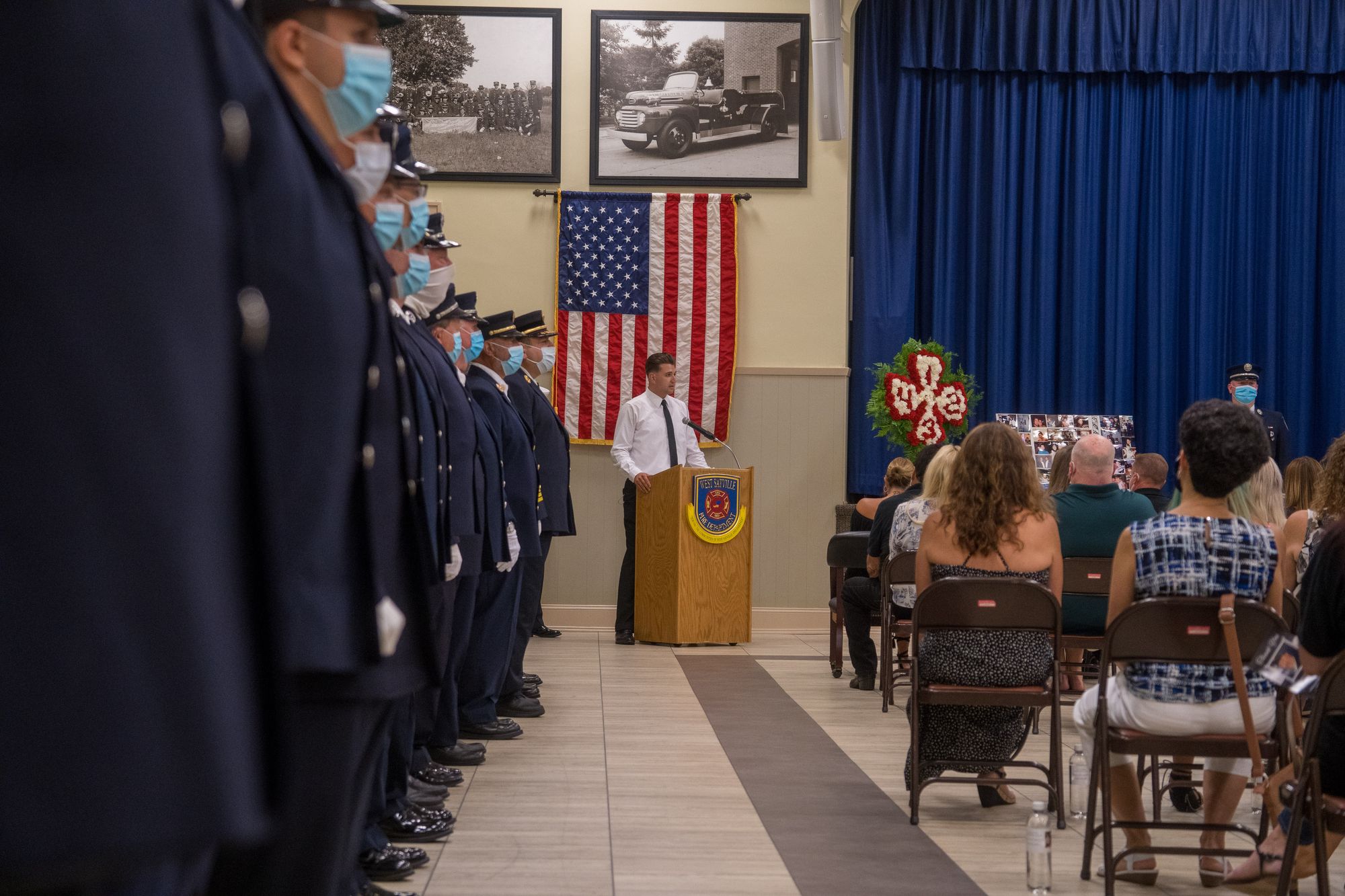 Chris's urn and some keepsakes were arranged on a table in the front of the auditorium in the firehouse. Masked attendees lined the walls as the chaplain, fire chief and Kyle all took turns delivering eulogies.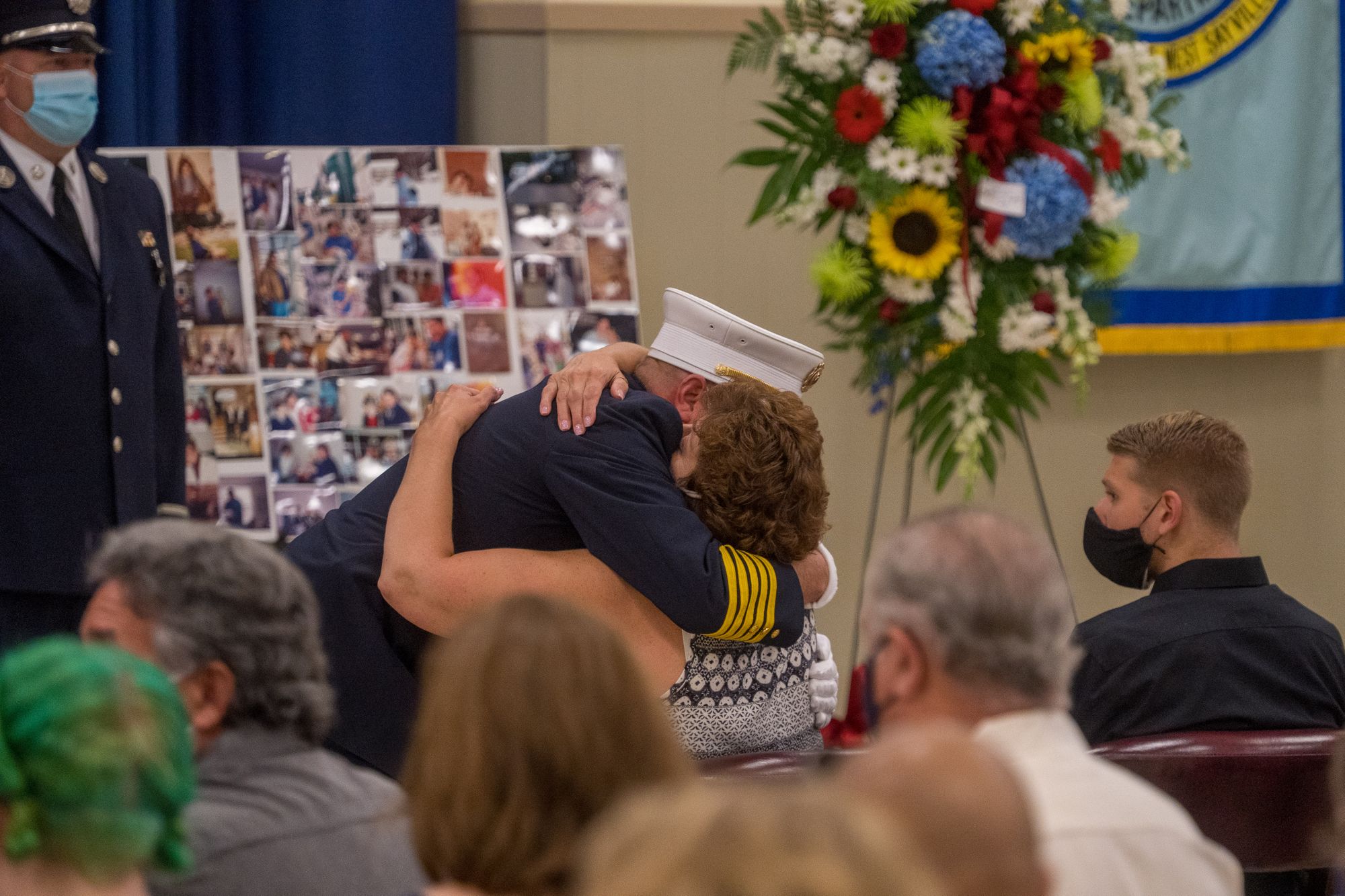 "I'm very grateful that he taught me how to be a man in the 25 years that I've known him," said Kyle. "If it wasn't for him, I wouldn't be where I am today."
Following the speeches, all members of the department walked up in pairs to salute Chris for the last time.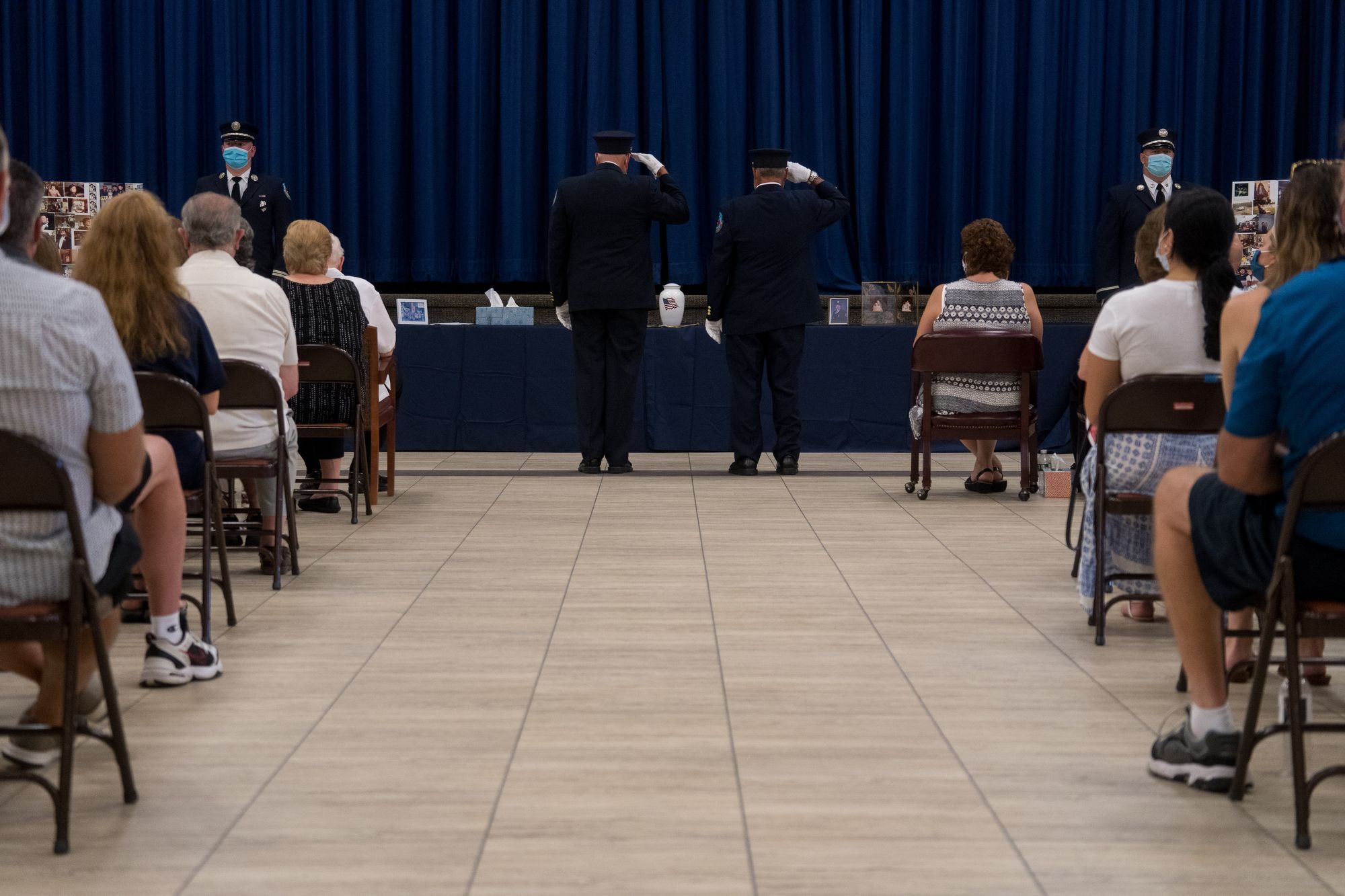 ---
Thomas Hengge is a photojournalist and documentarian based in New York. Get to know him better: @thomashengge
---