Every month, our Music contributors write about the songs that stuck with them during the most recent lunar cycle. From now on, we'll post these on the first Friday of every month, when Bandcamp forfeits its revenue share to artists and labels. Of course, these lists are by no means exhaustive, so check our Twitter thread—and those of other music writers you follow—for more Bandcamp Day selections.
This month's round-up is a short-and-sweet 12-tracker. It features three Pitchfork BNMs, the song that currently sits atop the Billboard charts, and the one that's about to be doing the same. Have we lost our edge? Let us know!
We break our own rules several times in this article, starting with our first selection, which is a full album.
Want to contribute to next month's list? See our newly retooled call for submissions at the bottom of this post.
---
Over the past decade, strong Floating Points releases for Luaka Bop and Ninja Tune have granted Sam Shepherd the clout to pull together a truly capital "E" Event in the broader constellation of experimental music: his new piece, Promises, which features substantial contributions from Pharoah Sanders and the London Symphony Orchestra. Across 47 minutes, Shepherd and Sanders ebb, flow and meld around the Orchestra's periodic swells, each player finding his footing relative to the other. Floating Points' meditative, loose-yet-precise style of composition is, by now, immediately recognizable. Sanders' tone is rich, and his playing is hypnotic, but he does not overpower his fellow performers; his presence is gentle and generous, even if he's clearly the star of the show.
I'm reminded of last year's We're New Again, a reimagining of Gil Scott Heron's final album by Chicago drummer Makaya McCraven. While that collaboration was made with only one of its participants alive, Sanders and Shepherd engage in a similar intergenerational conversation that not only provides an interesting narrative bridge between the worlds of two artists and their respective styles, but also reveals the spiritual nature of music and the magic of collaboration.
Buy Promises here. —Evan Lee
Originally from Di Melo's eponymous 1975 album, "João" is a portrait of a character who is timid, unsure of himself, chronically prone to social regret. He sells a staircase and buys an escalator; he has a child's soul but paints his face in the image of a king; he cannot make up his mind. In the end, the narrator tells João, "it is time / hurry, decide, because love goes away / and will leave you hanging / outside of truth, far from forgiveness."
Dora Morelenbaum's cover of "João" is the closing track on Podível e Impodível (Doable and Undoable), a recent re-reading of a few of Di Melo's most celebrated songs by several up-and-coming Brazilian artists. In Morelenbaum's arrangement, Di Melo's slowish samba is rendered as a languorous meditation at times reminiscent of a Duke Ellington ballad. She is accompanied by her steadfast collaborators—Lucas Nunes on guitar, Zé Ibarra on bass, and Felipe Moura on drums. In her version, "João"'s divagating, moist-eyed metaphysical slide is captured in its full arc, from staircase to escalator, from beach to bed.
Listen to Podível e Impodível here. —Raphael Grumser
nothing's wrong, now you're beside me again documents the creation and development of Hedra Rowan's new voice. It is born halting and inchoate on "a naive attempt at something the technology does not yet exist for," and blossoms as birdsong on "vigorous becomes dainty" over a swelling chorus (of her own voices) that is fully realized on "one more suitcase (evita)" as the backdrop for a chamber pop banger. Evan Lee, who interviewed Rowan for us earlier this week, told her he felt a narrative arc in the sub/hypertext of the album's eight tracks. Rowan, in typical bashful-artist fashion, called the whole thing "big and confusing and muddled" but said she was glad that "[a]t least it's clear to someone." I'd argue that both sentiments are true; while the album does have a strong narrative undercurrent, its shape is much messier (read: more interesting) than the term "arc" suggests.
Up until "aspiration porn," the fourth and final track on the tape's Side A, Rowan's voice grows steadily, and the song—the album's centerpiece, in my opinion—is where it finally reveals its full versatility. For the track's first 40 seconds, it reverts to a moan. As the more traditional vocal line tumbles in, it teeters between human and machine, struggling to reach its "natural" state. (It's meant to represent the voice training many trans women go through as they look for "ways to inhabit a more feminine vocal space," Rowan told Lee.) Then, about halfway through, a new voice appears, pitched up and digitized, a throwback to the automated vocalizations on Rowan's last solo project. It emphasizes the "cyborg feminism" that Hedra Computer Rowan, a Donna Haraway fanatic, feels is society's one true path. Beneath this new voice, the chirpy chorus that has loudly insinuated itself into the mix grows frantic. As the Vocaloid chemtrails fade, replaced by what sounds like violently scratched vinyl, the chorus is joined by another, this one more akin to an orchestra's cello and bass sections than birds. The last 90 seconds find these chori tangled in a disorienting counterpoint, mutating into a gruesome chord progression that feels like a black-lodge circle of fifths toward the end of the song. Finally, the choirs sign off like a barber shop quartet on a bad trip and taper almost seamlessly into the next track.
The rest of the album is chaos. Rather than settling on a symmetrical devolution or a crescendo to climax followed by a satisfying denouement, Rowan takes us on a twisting, looping rollercoaster of vocal mayhem (think Six Flag Agawam's Mind Eraser). "ur deadly, ur heavenly" motets its way into the bloodbath that ensues when "noise becomes female." Rowan throws us a callback to her voice's infantile onset in the latter half of that track, and reminds us of the vocal training process on "straining II," which starts out hard on the ears and ends up eerily pretty. Then, in a coup de grace, she finishes with a full-on pop song (the album's second banger, hitting even harder than its first). The first part, a 30-second "singalong," sets the stage for three minutes of the lush comfort we sorely need after the journey she's brought us on. Trip-hop drums and kitchen-sink synth swells underscore hedy's new voice as she channels Dido—and a bit of Dolores—to bring us home. —Raphael Helfand
Buy nothing's wrong, now you're beside me again here.
On "John L," black midi spins its listeners down a tornado of stop-and-start prog riffs that don't let up for a single second. Even the silences are busy. Building its foundation on a galloping guitar line, the song eventually switches to a syncopated drum pattern that the other instruments follow, à la "21st Century Schizoid Man." Disorder ensues: The band combines shrieks and silence from all directions before returning home with moments to spare, ending abruptly with a sixteenth-note crescendo. "John L" might seem impenetrable at first, but give it a chance and you'll find it's quite catchy. You wouldn't play it at a party, but it could definitely fire up a festival crowd.
Atop the riffage, singer Geordie Greep tells an abstract story that supposedly references a South Pacific cargo cult, but the instrumental remains front and center. I rarely listen to black midi for the words, but this track's fascinating tale has left me with plenty to ponder. Painting a picture of a performer who is both a cult leader and a traveling bard, Greep leaves listeners realizing there isn't much difference between the two personae. Like the prog rock bands of the '70s who based whole albums on Yogi autobiographies and created their own languages, black midi fills "John L's" lyrics sheet with allusions that make for better Wikipedia search material than the recycled anxiety and alienation tropes most punk bands still rely on. Salut, Geordie! —Andrew Burton
Buy John L / Despair here.
I am often suspicious when listening to Justin Bieber that his songs are written by an A.I.—nonsensical, catchy, at intervals accidentally profound. The 16 tracks on his newest album, Justice, offer no exceptions to this rule. The album is a pleasurable listen—chock full of earworms and danceable rhythms—but can feel thrown together, seemingly at random. Like, for instance, his decision to cram an almost-two-minute-long sample of a Martin Luther King Jr. speech (à la David Guetta) between two songs about how much he loves his hot, white wife. (Though, as Rawiya Kameir suggests in her Pitchfork review of the album, the choice does contain some sort of grim logic. MLK's words and image, after all, are constantly repurposed as vague, "corporation-safe" pro-diversity rhetoric; "And if Bieber is anything," Kameir writes, "he is a corporation.")
That being said, the record fucking slaps, and I find it easy to forgive Bieber the occasional faux pas when his aggressive naïveté is what makes him such a palatable, dependable pop star in the first place. Track 12, "Peaches," is a standout—a breezy, swinging R&B ditty that will burrow into your auditory cortex with surgical precision. It won't matter that it's unclear what on earth he's talking about. Like, what does he mean, exactly, when he sings, "I get my light right from the source, yeah"? Is it a Jesus thing? A drug thing? Are we supposed to glean further meaning from the previous line, "I take my chick up to the North, yeah (Badass bitch)"?
There's no way to know for sure. The music video provides few clues; likewise the guest appearances by R&B artists Daniel Caesar and Giveon. What we do know is that Bieber will continue generating hits—delightfully haphazard and captivating hits—and performing them with the same ease and charisma that first made him a star. —Lily Houston Smith
Buy Justice here.
Song mid, ending good. Discourse bad. Shoes funny. [6.6/10] —RH
Send "Montero (Call Me By Your Name)" to #1 by streaming it wherever you listen to music (if that's something you feel like doing).
Imagine listening to someone's body. There's the rise and fall of the lungs. There's the reactive pounding of the heart. Maybe the stretching yawn of tendons play alongside nervous synaptic crackles. A working body is a full spectrum of frequencies and timbres. Sit for a second and feel yourself. To be is to be an experience for yourself, or for somebody else.
Dalibor Cruz's new album, Riddled With Absence, lets the listener hear beyond the music, into the room that the music was created in, and beyond that, into the pulse and timbre of the creator himself.
This isn't a solo record. I mean, it objectively is, but I get a sense of camaraderie throughout the album. Cruz and the various VSTs, rack modules, patches, and plugins he employs are on equal footing. Behind the technology, however, the album presents the work of fingers and joints, of a supportive back and bent knees, of a skull that resonates and shapes each frequency, eventually giving way to viaducts of flesh and textural skin brushing against knobs and pads. Like a sweeping closeup of a body, these songs are exploratory and conversational.
What is best about these songs, and "Seen as Scum" in particular, is something elusive, something I would call a disorganizing principle. In "Seen as Scum," the compositional movement feints and hesitates; sometimes it nags, other times it breaks down completely but, like the album as a whole, stretches on long enough to hypnotize. I feel myself feeling myself. Perhaps this confidence stems from the fact that Cruz was certifiably feeling himself when he wrote this. —Justin Enoch
Buy Riddled With Absence here.
"Thirst" is quick, chaotic, and, above all else, thrilling, though this is not one of the gerunds around which the song's three hooks are based. "STUMBLING," "FLAILING," and "SPINNING" all get their time in the sun, and while the track does induce dizziness, delirium and motion sickness in me every time I throw it on, it's creators seem to be in total control all the way through. We white-knuckle for two taut minutes while Bonnie Baxter and Lust$ickPuppy, self-described mutants who lurk in the ruins of New York's bombed-out hardcore rave scene, shove us into their sonic blender and press puree. Each time I listen, I'm shocked to come out on the other side with all my parts intact. "EVERYTHING FUCKING SUCKS," to quote the track's opening line, but Bonnie and Puppy are keeping the party going as the city cruises into a fourth-wave spring. —RH
Buy "Thirst" here.
In a 2016 masterclass, somebody asked Julian Lage how to begin to learn free improvisation. I recall Lage's answer to be roughly: "Play along with Igor Stravinsky's The Rite of Spring every day for a month." This is certainly an odd recommendation for a guitarist to give, especially when it is directed to a younger (presumably) guitarist. But it is a wonderful tip that demonstrates a bit of the paradox that is Lage's musicality.
A child prodigy, the subject of a documentary at only 8 years old, Julian Lage is one of the most exciting North American guitarists working today, and he is not even 35 years old. His list of collaborators reads like a who's who of almost every genre played in the United States. But what is most striking about Lage's virtuosity on the instrument is that he plays free from the constraints of Jazz guitar vocabulary. He is the crossroads where the tried trails of tradition meet refreshing restraint. He is, in short, one of our most musical instrumentalists.
"Saint Rose," an homage to Lage's hometown of Santa Rosa, California, is the lead single from Squint, his first Blue Note release. On "Saint Rose," Lage is accompanied by bassist Jorge Roeder and drummer Dave King (The Bad Plus). Set for release this June, it is a record that (Lage has suggested in interviews) will embrace two of the label's great strengths: inspired improvisation and timeless songwriting. —RG
Pre-order Squint here.
I ended last month's Favorite Songs round-up with some poetic waxing on the eponymous opening track and lead single from Menneskekollektivet, the transcendent Jenny Hval/Håvard Volden collab album our world didn't deserve but desperately needed. The full album dropped last Friday, and while I generally make it a rule not to write about the same artist in back-to-back months, I had to make an exception here.
In brief: "Love, Lovers" reminds us why Hval is one of the best songwriters on the planet. The utter tranquility of her voice can be disarming, especially when her words verge on artifice (see: "With each repetition, making me an opposition," repeated more times than I'd care to count). But give her your undivided attention for 15 minutes; put your trust in her ability to sweep you off your feet, and she will, without fail. The way she gradually unfurls cryptic lines into enigmatic stanzas (see: "Untangle the word from the mind / Language where everything is dying / Where everything is dying / Words don't hold things like love, lovers'') justifies the lyrical choices that seem questionable at first. The glorious revival of these written-off refrains reminds us that language is a vessel for sound, not the other way around. And while the track may take nine whole minutes to break open, its gorgeous third act is more than worth the wait. When it hits, your synapses spring into action; your pleasure circuit runs on repeat; you grind your teeth.
Volden and Hval are masters of the slow burn. Together, they've created a piece of art that's more suite than album, more symphony than song. —RH
Buy Menneskekollektivet here.
In a better world, this song would play at 4 a.m. at Poor Boys, and all of us would either be inside sweating our outside smoking. In a better world, this song would play at 6 a.m. at Berghain, and we'd all be doing unspeakable things to each other in pitch-black rooms. But we live in this world. Poor Boys may be open at more than the permitted 75 percent capacity after its 11 p.m. curfew tonight, but even if it weren't a COVID petri dish, its owner is such a scumbag that baggy nights there were already borderline unethical before lockdown. And when Berghain reopens, it's dead-eyed DJs will still spin the same mind-numbing Euro house and white-washed techno they were spinning pre-pandemic. (Full disclosure: I have never been to Berghain.)
It's 2021, and while we can't spill each other's drinks in dangerously over-occupied clubs and warehouses, we can still rip our repetitive favs on repeat at home and play pretend. (Laid Off contributor Andrew Burton somehow fell in love with maximalist dance music in this exact context.) New Orleans DJ and multidisciplinary artist (and Special Interest synth extraordinaire) Ruth "Ex" Mascelli has retired their Psychic Hotline solo project, but not before releasing The Wild World of…, a 14-track "hits and misses" compilation of songs they recorded between 2015 and 2019.
"The Uncertainty" was originally released in July 2019 on Psychic Hotline's Heat Index EP, so I technically shouldn't be writing about it here, but i've already broken my own rules once, and this track feels more relevant now than it did when it was written. "It's not the end of the world / But it could be," Mascelli begins, a statement that rung true that unbearably hot summer (my last in New Orleans) as hurricanes loomed around every corner, petering out in the Gulf but overburdening the city's antiquated sewage system nevertheless. It rings even truer today. Mascelli goes on to beg for a salve for their endless uncertainty, something we've all done at some point or another in the past year—to ourselves, to our Gods, to our friends and families.
More importantly, though, the song is a bop. Mascelli draws from Joey Beltram, Bernard Sumner, and Zsa Zsa Laboum to create a driving mix that manages to be both urgent and indifferent. It's the type of track I would have hated as an uncultured wannabe jock in high school, loved as an uncultured wannabe hipster in college, and can groove along to now as uncultured wannabe journalist while I write or work out without feeling any type of way about it. Our fear of the future is here to stay, and Psychic Hotline's unappreciated ode to uncertainty functions the way all good dance music should: it helps us forget. —RH
Buy The Wild World of Psychic Hotline here.
At the beginning of the pandemic, when music felt exceptionally dull, I was on bandcamp clicking. I can't quite remember how the album arrived, but it was called 2021survive, and was, apparently, released in Tulsa, Oklahoma. The first voice on the album came out clipped and auto-tuned, piped in straight from an alternate universe's version of an OC episode, singing "I believe everything gonna be alright / Why don't you think everything gonna be alright."
I remember thinking, "there's no way this is from Tusla" and "this is absolutely going to be my shit." The last time I listened to a full album on repeat would have been several years ago, but 2021survive stayed on deck, a small, strange companion to the neverending dirge of life. Information on the project was scarce, and what little there was kept changing. First, the location data changed to Tokyo, Japan, and then, the album disappeared entirely.
Here's what I have ascertained:
1) 2021survive is a collective and event series.
2) Lil Soft Tennis and Ken Truths serve as the hub for 2021survive.
3) An uncertain amount of collaborators rotate around this hub.
4) Newest among them—don't cite me—is NowLedge.
This should catch us up to the present moment, a moment where we have the honor to inhabit the same world as NowLedge's recently released EP, Hyper Ego. The title might immediately bring to mind hyperpop. This is not good. Hyperpop is good, but that title doesn't do the sound coming from 2021survive justice. Their sound is too malleable, too sensual. I'm going to label them under my own made-up genre, "Plastic Technon." I would actually label the Dalibor Cruz release under this header too because it represents more of a chaotic sensation than a sound. Case in point: "Spread!!!" Check the video. Are they wearing shell necklaces? Is that a Les Paul? It barely matters when the sub bass drops in. God, I wish we could party. —JE
Buy "Spread!!!" here.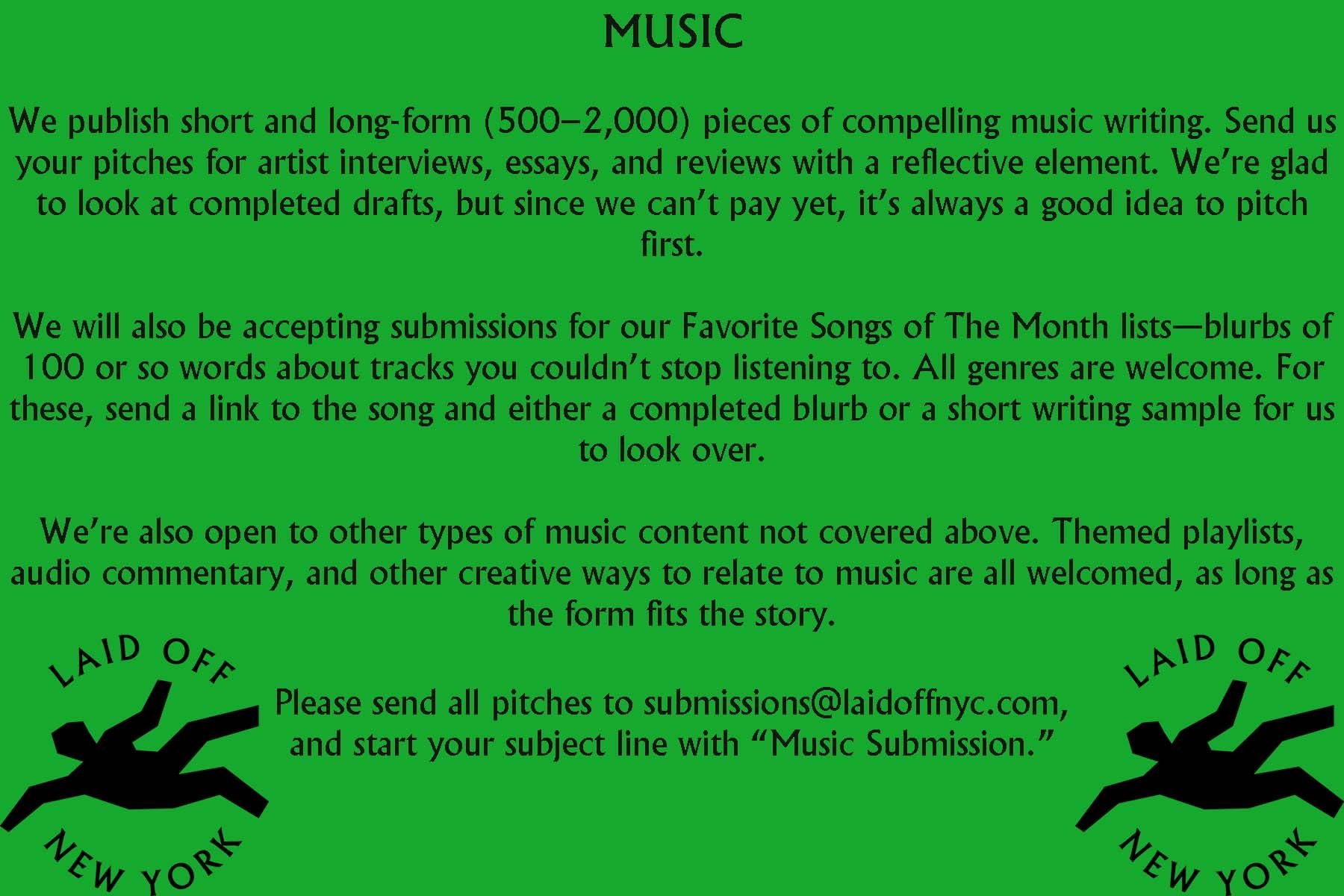 *Thumbnail image, created by Joseph Mooney: Cover art (clockwise from top left) for "John L / Despair" by black midi, Riddled With Absence by Dalibor Cruz, "Montero (Call Me By Your Name)" by Lil Nas X, and "Thirst" by Bonnie Baxter and Lust$ickPuppy.
**The Spotify playlist (which we include reluctantly) does not include "aspiration porn" by Hedra Rowan, "Seen as Scum" by Dalibor Cruz, or "Thirst" by Lust$ickPuppy X Bonnie Baxter because they aren't available to stream on that platform. All three tracks are available to stream on bandcamp.
---