Every month, our Music contributors write about the songs that stuck with them during the most recent lunar cycle. This time, we're doing it a little differently, starting out with a few tracks from Cashforuhuru, a massive compilation of new music from New Orleans' most exciting underground artists, organized by dj faeriegothmother. All proceeds from the project will go toward an electric wheelchair and a handicap-accessible vehicle for Uhuruverse, an icon of the city's queer punk scene. Our rule is generally one song per artist/album per month, but we decided to make an exception here. If you buy anything on Bandcamp this Friday, when the site forfeits its profit share to its artists, it should be this! If you pay more than the minimum asking price, there may even be a prize in it for you.
Want to contribute to next month's list? See our call for submissions at the bottom of this post.
---
What seems like a pivot for New Orleans' strangest rock brand, Primpce, is really a continuation of their latest album's ethos. Sure, it's slow, methodical and minimalist where most Primpce songs are short, spastic bursts of energy. But look closer and you'll find "Local News" is an expansion on the found sound experiments Alex Brownstein-Carter and David Sigler have been working on for the past few years. On this track, they sample material from the intro jingles of broadcast news segments. As they have before with children's toy commercials, Nigerian exorcisms and urinal flushes, they take these irritating earworms to their most sinister extremes through dark methods of sonic distortion (slowing down, speeding up, adding effects). "Local News'' may not provide the nitrous oxide rush of Primpce's usual bite-sized product, but the strange trip it takes you on is well worth the seven minutes it takes for the tab to dissolve. —Raphael Helfand
Delores Galore and Pearce (Gabrielle Washington and Dexter Gilmore of Sexy Dex and the Fresh fame) team up for the most danceable track on the Cashforuhuru tape. Their collagic, vaporwave-indebted style is at its finest here, as they borrow from hyperpop, funk, glam, shoegaze and disco to piece together four minutes of non-stop euphoria. —RH
Bryan Funcke and the rest of the rotating cast of aging (and not-so-aging) punks who call themselves Thou are consistently scarier than most metal bands could ever aspire to be, and much more interesting. On "Anarky," Funcke pays homage to his angsty roots, throwing up a middle finger to polite society as he growls over buzzing power chords, caterwauling feedback and an uncharacteristically primitive drum beat that emphasizes the song's straightforward refrain: "I might be stupid / I might be stupid / I might be stupid / SO ARE YOU!!!!" —RH
Uhuruverse lends his own twisted energy to the tape's final track, a short-and-sweet rap duet with Andy Moon. Moon's squelchy beat—understated percussion underscoring a synth that swells like the climactic moan of a hippo from hell—is a trampoline for their traded bars to bounce on in slow motion. Raunchy punchlines ricochet until just past the two-minute mark, when the beat cuts off, and a free-flowing flight of horny fantasy about salacious acts with goblins, dragons and fairies comes down to earth. "Eat the bussy disrespectfully / Give some sloppy toppy to pay respects to me / I'm your favorite fucking G," the track concludes, bringing the 100-minute epic of Cashforuhuru to a close. —RH
BUY CASHFORUHURU HERE!!!
I've had pirates on my mind. After spending this week deep-diving into the Pirates of the Caribbean franchise, I can see Davy Jones playing an organ with his tentacled face; mutated by movement, deformed by loss, built up, deposited, pushed out, and pulled back in. I can hear a soundtrack of white noise, of creaks and crumbles, spilling and splattering, some large elemental churn and some quiet murmuring from below. I feel soggy. I feel ugly. Where we're going there be no posi-vibes. There's a bit to chomp, an eye to patch, a beach to wobble over, ontological nausea… some magnitude of freedom, stolen now and again.

Through my looking glass, I first saw Gretchen Lawrence when she operated under the name Regret. The song was entitled "Ugly." Vibrationally, "Ugly" was rum drunk. Rhythmically, it was sea-sick, its pull magnetic. In the years since, through several singles, one EP, and a new identity, Gretchen Lawrence emerged as a soul searching. Their strongest work since that early one-off, Hunger, released on Valentine's Day, charts a similar course through murky wreckage. To use the words of one Captain Annette Peacock, my closest referent, "the twisting thrusts to the rhythmic beats like the sound of a whip drowning in the waves of sensation." I feel these words deeply throughout Hunger. I feel undercurrents of erotic tension. They require the constant, violent heave and ho of my body, shaking without shame, wet with purpose, in and of and against nature. I'm reminded of Calypso being unchained from human form by the Brethren Court in At World's End. Calypso, meaning "they who hide." Well, no longer.

Four minutes into "Fire Burning Inside Me," a cartoon boing appears in the mix, bringing the silly scenarios of the nautical Disney franchise to mind. It makes me think of children's entertainment at war with its own horniness, desire at war with its own artifice. These are the sounds of Gretchen Lawrence exorcising darkness, stretching violence and empathy into a taffy swirl, under the direction of Chuck Jones. We'll call these loony tunes. —Justin Enoch
Buy Hunger here.
Freddie Gibbs has become a reasonably consistent heavyweight in underground rap circles. He switches flows effortlessly, camouflaging just as easily on tracks with electronic producer Machinedrum as on his frequent collaborations with gritty New York rap group Griselda. His prolific output is finally being recognized in the mainstream, leading to his first Grammy nomination, for Alfredo, his 2020 collab with Alchemist. On "Gang Signs," he bounces over a breezy jazz beat by Roddy Ricch producer Pilgrim and Working on Dying member FaxOnly. What has always made Gibbs shine above his peers is how he makes the most technical of rhyme schemes seem so effortless. Here, he makes selling cocaine sound like one of the most laid-back things one could do. Schoolboy Q adds a bit of melancholy—"I'm happier than yesterday, we 'bout to beat the homie case / Tears on his daughter's face, just tryna help with what I make, ayy / Is it just feelings or rap lines?"—a welcome counterpoint to Gibbs' breezy verse. —Brandon Lattimore
Buy "Gang Signs" here.
Moses Boyd had a lot to live up to when reworking his critically acclaimed album Dark Matter. The 2020 release cemented the drummer, composer and producer's place in the thriving London jazz scene, earning him the AIM UK Independent Breakthrough Artist of the Year award and a Mercury Prize nomination. Sliding into Katy B's DMs to ask her to collaborate on the new vocal mix (her first new music in 4 years), Boyd set the stage for an instant dancefloor classic. The track takes on an irresistible new life, blending jazz, Afrobeat and electronic tinges with garage beats and keys from Joe Armon-Jones. —Martha Cleary
Buy Dark Matter here.
In a 2016 interview commemorating the 50th anniversary of John Coltrane's Ascension, saxophonist, composer, and educator Archie Shepp remarks about the celebrated jazz saxophonist's direction: "It's all secular, spiritual music. Coltrane always let that lead him." Shepp, who has participated in several seminal Coltrane sessions (Ascension, unreleased takes on A Love Supreme) has talked about Trane's lasting impact on younger saxophonists, calling to mind a continuum of radical innovators cultivating newer generations. Shepp, an octogenarian avant-gardist, has joined forces with pianist Jason Moran, almost four decades his junior, on the album Let My People Go.
Let My People Go is a collection of Jazz standards and spirituals taken from two of the duo's live performances. On "Wise One" (from Coltrane's classic 1964 album Crescent), Moran and Shepp stretch out, taking almost twice as many solo choruses as Coltrane and McCoy Tyner do on the original recording. The duo format allows Moran and Shepp to explore new dynamic possibilities unheard on the 1964 original, pulling and pushing each other into new ranges, changing directions at the drop of a breath. I especially love the intense, harmonically saturated, two-handed chordal runs that Jason Moran plays at the climax of his solo, letting it fall from a fortissimo into a restrained piano, where Shepp picks it back up and moves into the final restatement of the theme. —Rapha Grumser
Buy Let My People Go here.
Super Monster, the debut album by Brooklyn singer-songwriter Claud, has all the trappings of classic bedroom pop: dreamy, mid-range vocals heavy on the reverb, uncomplicated synthy accompaniment, and a pressing concern in the lyrics with how "hard" or how "easy" things are (ex back in town=hard; summer=easy; life=hard, but hopefully soon, easier).
The scenario of "Guard Down" is a hard one, but one which is patently easy to grasp, requiring little in the way of exposition: "I've been staying in Chicago / But I'm coming back tomorrow / You're seeing someone, I'm not though / And that feels really awful."
No frills here; the song is the musical equivalent of a doodle in the margins of a notebook. The track's simple, repetitive, soothing style is reflected in its animated music video, a brightly colored, surreal romp with visual parallels in Cartoon Network's Adventure Time, or even old Fleischer cartoons. The effect is a song that feels private and unpolished—employing the same naked vulnerability, the same evocation of twenty-first century young adulthood angst, that drove the success of artists like Frankie Cosmos and Phoebe Bridgers. It's music that is about neither subtlety nor flagrance, but a clear-eyed, disimpassioned expression of the constant interplay between the unfeeling persona and the feeling individual which it must always take care to protect. "Don't let your guard down," Claud sings, while, in effect, letting their guard down. "Don't let your guard down." —Lily Houston Smith
Buy Super Monster here.
I was 11 when Superwolf came out in 2005, and I don't have cool parents, so I didn't hear Bonnie "Prince" Billy and Matt Sweeny's collaborative masterpiece until long after its release. 15 years later, it seems I'll finally get to experience the duo's magic powers in real time, albeit not in a live setting for the time being. The duo will release Superwolves, their massively belated sophomore record, on April 30. "Hall of Death" sounds nothing like anything from the first record, nor does it resemble the two loosies Bonnie and Matt dropped in the fall. Here, they trade in their usual standard folk-rock instrumentation for the stylings of tuareg producer Ahmoudou Madassane. Employing his regular bandleader Mdou Moctar—one of the most exciting guitarists currently walking the earth—and the rest of their touring band (Michael Coltun on bass, Souleymane Ibrahim on drums), he creates an unlikely backdrop for Bonnie's timbrous tenor. Sweeny's guitar takes a supporting but essential role, keeping Moctar's licks afloat with a driving loop anchored to the rest of the rhythm section's hypnotic groove. Bonnie has proven highly adaptable over the years, and he rises to the occasion here, marching courageously into the hall of death towards a nameless lover who waits at the other end, hair blowing in a wind from the beyond. —RH
Pre-order Superwolves here.
It has taken too long for serpentwithfeet and Sampha to release an officially recorded track together. Along with Kelsey Lu and Moses Sumney, the two have become the unofficial leaders of the new black indie avant-garde. I always suspected the result of their inevitable partnership to be emotionally devastating, but not because of the condition the world would be in by its release. "Fellowship" is a meditative, grand ode to the beauty of friendship that, in a perfect world, would be this generation's "All My Friends." "Maybe it's the blessing of my thirties / I'm spending less time worrying and more time recounting the love," serpentwithfeet theatrically croons over light, off-kilter production by DJ Silva. The new single is significantly poppier than most of their output (maybe that's the Sampha influence?); we'll have to wait until March 26 to see if the rest of their forthcoming album, DEACON, follows suit. For now, though, this beautiful reflection on time spent with loved ones is precisely what I need. —BL
Pre-order DEACON here.
Mark de Clive-Lowe's understanding of where electronic and broken beat intertwine with jazz is evident on this remix. Opening with subtly harmonious keys and continuing to expand with complex rhythms, the pioneering electro-jazz pianist, DJ and producer utilizes Nubya Garcia's hypnotic looping sax, building towards a final crescendo of complete freedom. On the original track, from Source (2020), Garcia created space for her bandmates to shine. What de Clive-Lowe offers her in his reworking is a chance to take centerstage; instead of overpowering the original with new ideas, he amplifies her unique talent. —MC
The youth are here, and due to Instagram psychosis, heavy shroom intake, or maybe just good sense, they don't appear to have the same insecurities about the definitions of "pop" and "rap" and "indie" that kept prior generations arguing online about Pitchfork reviewing Kanye (or whatever) in 2009. Instead, they're getting genres all over each other and making delicious Reese's Pop-Trap Cups like "Go For A Ride," which takes the attitude and subject matter of Cartier'God and LazyGod's south Florida rap world and slathers them with luxurious day-spa synth sounds and ear-worm falsetto hooks. If Ariel Pink (RIP) had ever gotten laid, he might have made a song like this. —Daniel Siegal
Buy "Go For a Ride" here.
"Sustain" begins with the interval of a perfect fourth, Eb and Ab, which are, er, um, well, sustained, for the duration of the entire composition. Over the course of 4:20 seconds, Gendel's neo-1980's synths swirl around the two notes, leading them through a swaying 6/8 digital rainforest of adventurous harmonic cadences in the key of Ab minor. The track, released in anticipation of Fresh Bread—a three-hour and forty-minute collection of Gendel's unreleased studio material from the last decade, out now via LEAVING Records—is a polyphonic plethora of synth tones unaided by percussion, but it moves like mad. I've listened to "Sustain" passively and obsessively over the course of the last month as I perspired in line at the store, as I pedaled uphill toward the waterfall, as I killed time waiting for a friend downtown. Now, with the release of Fresh Bread, I have almost four hours of new environmental music to score my long bike rides to endless rehearsals through Rio's fog and rain. —RG
Buy Fresh Bread here.
Most house tracks thump. Many of them pulse. But on "Goddess Calling," Octo Octa glides. With its soaring synth line layered over breakbeat drums and spastic vocal samples, the song yearns for your attention, creating space for boundless inward reflection rather than dancing in a crowded room. Having lived in rural New Hampshire for the past two years, Octo Octa dissolves the distinction between club music and off-the-grid psychedelia on her new EP, She's Calling. Neither happy nor sad, "Goddess Calling" asks you to remove yourself from life on busy earth. Given that most of us aren't alone in a forest, it's nice we can listen to a song to shut out the world around us. —Andrew Burton
Buy She's Calling here.
As you might expect from a song about growing closer with someone you love, "Move Into Me" radiates the floaty bliss of new relationships. The track is the product of a collaboration that began pre-lockdown, when LA-based Broods met the Bad Sounds crew while visiting the UK, and has evolved into a meaningful remote partnership during the pandemic. On "Move Into Me," hints of dreamy indie-pop synths swirl around soulful vocals and create a sound like golden hour on the sunniest of days. —MC
Buy "Move Into Me" here.
Iceage is back on the album cycle with Seek Shelter, slated for a May 7th release. The announcement comes with a slew of exciting news including a new label (Mexican Summer) the addition of a second guitarist, lead production by Spacemen 3's Eric Kember, and two new singles. The second is "Vendetta," a madchester-indebted paean to corruption, arriving in tandem with a slick visual. The video runs through the stylized imagery of every European gangster film ever as veteran Croatian-Danish actor Zlatko Buric does a free associative reprisal of his starring role in Nicolas Winding-Refn's 2005 crime classic Pusher III. The photogenic punks of Iceage jam along in their indolently stylish manner. As for the new direction of the single, look to the top comment on the video above, from Youtube user JH Skj: "You either die like Joy Division, or live to see yourself become Happy Mondays." —Andrew Cirac
Pre-Oder Seek Shelter here.
In anticipation of their new album, Notes With Attachments (scheduled to be released on March 12 by Impulse! / New Deal records), Pino Palladino and Blake Mills have released a second single. (I wrote about the first, "Just Wrong," in last month's round-up.) "Ekuté" is a Fela Kuti-inspired, post-postmodern Afrobeat jam co-written by Palladino and Mills, along with Downbeat darling Marcus Strickland and the unimpeachable Chris "Daddy" Dave. More chords don't necessarily mean more fun: "Ekuté" is a 5:30 jam over a single chord with such a corruscating array of instrumental textures, melodic phrases, noise stabs and squeals, that it will satiate even the most impatient listeners. —RG
Pre-order Notes With Attachments here.
Following a year when Noname became the unofficial voice of woke Twitter, thanks to her book club and an unexpected beef with J.Cole, she's back with her first new music of 2021. She has always tackled death in her deeply reflective songs, but since her platform has grown more radical, she has tackled subjects like anti-capitalism and injustice with the same grace and humor as the rest of her output. "Now the rich niggas is rich niggas with your bread / Really bitch niggas with big figures, some cokeheads / These bitches is cokeheads, man, fuck a billionaire, nigga," she raps on "Rainforest," delivering these impassioned lyrics in her usual understated tone.
The same empathy Noname has displayed since Telefone is evident here from the opening bars. "How do you get closer to love?" she begins, as a laid-back soca instrumental from Toronto-based producer The Kount starts up behind her.
Noname recently revealed that she was asked to be a part of the soundtrack to Judas and the Black Messiah with fellow Ghetto Sage members Saba and Smino. But whether or not she meant it to be, "Rainforest" is a more fitting tribute to Fred Hampton than anything featured on that compilation. —BL
Buy Rainforest here.
Jenny Hval has always been a master of expression, striking fear into our hearts with visions of vampires and the end of days, then soothing us to sleep with quiet lullabies. In recent years, she's leaned into her literary potential. She published her third novel, Å hate gud (literally "To Hate God" but titled Girls Against God in its English translation) in 2018, and last year, she released her seventh studio album, The Practice of Love. The record features many spoken-word interludes in which she contemplates love's very nature, burrowing past tropes and taboos to get at the core of humanity's least understood emotion.
"Menneskekollektivet," the first single, title track, and opener of her upcoming album with long-time collaborator and fellow Norwegian Håvard Volden, picks up where TPoL left off. The 12-minute song-poem transports us back to birth, a setting where there is "no word and no 'I,'" only sound. As Volden's synths hold us in a womb-like embrace, Hval takes us on a lucid dream. We form our first vowels, unable to distinguish  "a 'why' from a 'thigh.'" She muses on God, and her mind suddenly digresses to the quotidian, a conversation with the Jehova's Witnesses on her doorstep. From there, we go further down her free-associative rabbit hole, and further, and further, until it becomes easier to focus on the tone of her voice than the train of her thoughts. We let the synths and the slow build of percussion swarm around us. We barely notice when the voice disappears entirely, only registering its absence when it is replaced by what sounds like lasers. We are only four minutes in.
Playing "Menneskekollektivet" casually in the background provides pleasant ambience, but an immersive listen—lights off, headphones on—is a transcendent experience. Hval's voice, alternately flat and melodious, radiates an uncanny sense of calm, ice cold but never sterile, as welcoming as a snow bank at the edge of a frozen pond. —RH
Pre-order Menneskekollektivet here.
---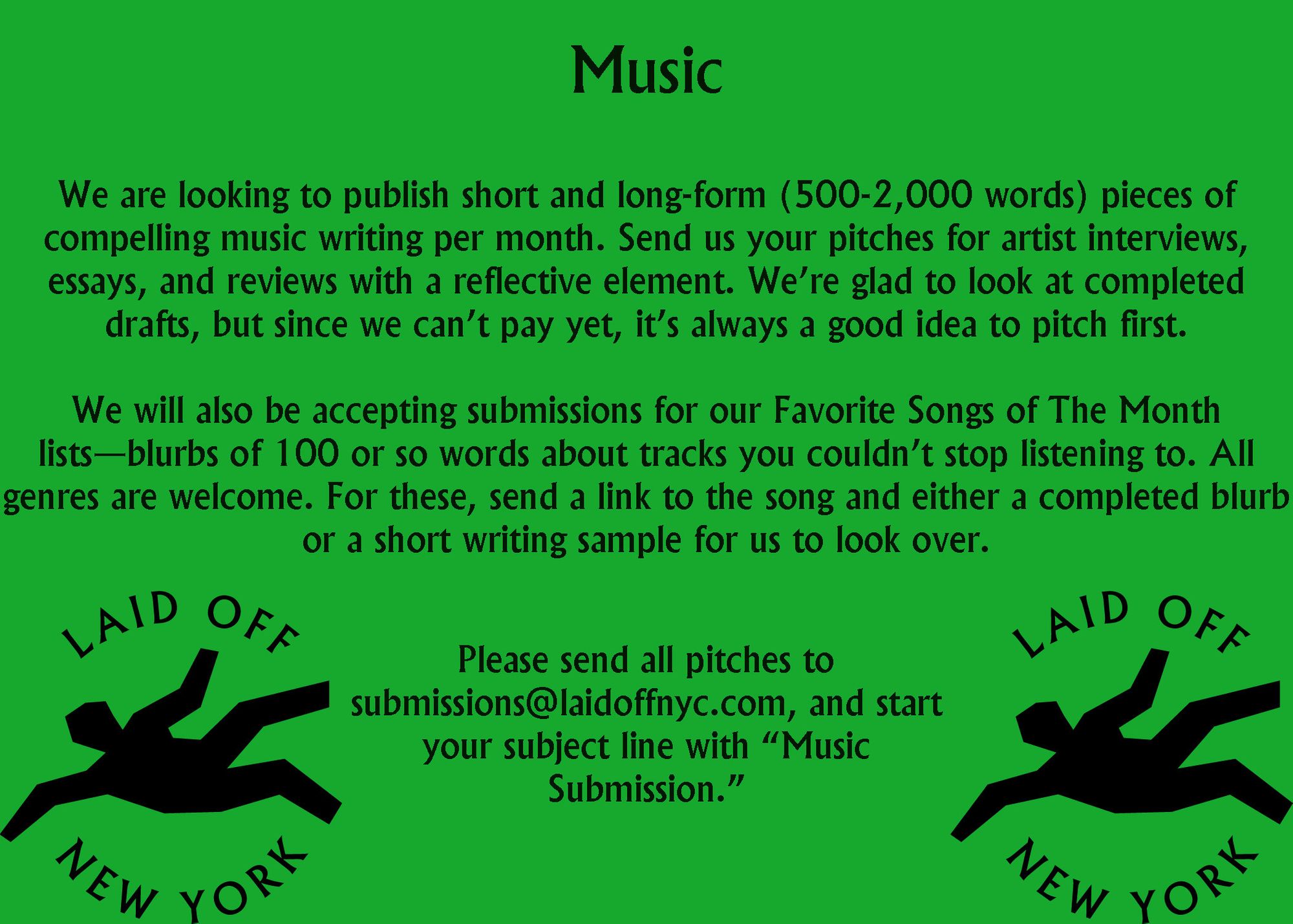 ---