Hello! It's your friendly editor-in-chief, Raphael, wishing a happy new year to you and yours. May the road rise up to meet your wheels, friends.
Laid Off NYC had an uneven 2021. Last January, we revived this hallowed site and built it into a nexus of cultural commentary, free thought, and lots of funny jokes and gags along the way. As the planet plowed its course around the sun, however, many of our founding poly parents became less laid off and thus busier, spitting in the face of all we believe in here with their every raise, promotion, and pat on the back from a superior. Their jobs jammed the gears of our creative machine and slowed it to a crawl. And yet, we persisted.
We don't really have a better plan going into 2022 than we did at the start of last year, but we intend to hit the ground running again, even as our commitment to unemployment wavers—our selfish desires to heat our apartments and eat nice meals trumping our collective artistic integrity as we enter the depths of an omicron winter. Through it all, we rest easy in the knowledge that things tend to magically work themselves out through the power of positive thinking, so what's the worst that could happen?!
We've got some very epic content on the way these next few weeks, and our first order of business is an overdue end-of-year playlist* from our music staff, after slacking on our monthly roundup duties for the past four months. Monday night, in a state of mania that has clearly not yet ended, I decided this playlist needed to be 365 songs long.
Many of the tracks here come from our January–July favorite songs lists, but many others have been added post-hoc by myself and several others. Overall, 25 writers and curators contributed to this 25-hour compilation in one way or another—some directly, others less so. They are, in order of written appearance in our music pages this year: me; Music co-editor Rapha Grumser; contributors Andrew Cirac, Ben Shear, Laura Rostad, Brandon Lattimore, Andrew Burton, Justin Enoch, and Martha Cleary; Letters editor Lily Houston Smith; contributors Daniel Siegal and Evan Lee; Letters/Visuals editor Guillermo Manning; contributors Mary Durocher and Kimon de Greef; managing/Thoughts editor Jda S.G.; Fashion editor Mikaela Dery; contributors Sarah Goldberg, Nina Posner, Vita Dadoo, Pete Tosiello, and Ben Barzilai; and sleeper agents Andy Swicord, Charlie Williams, and Spencer Darr, who didn't write for our music section this year but heeded the call and helped me put the final touches on this stupidly long playlist.
Our list is bookended by two versions of Caetano Veloso's "Baby." We start with a January rendition from Tim Bernardes and Gal Costa and finish with Costa and Veloso's original 1968 studio version (appearing a year later on Costa's self-titled debut LP). Our use of a 1968 track is obviously cheating, but the song holds a symbolic meaning for us. Rapha Grumser wrote the blurb for the new "Baby" in the early days of February, and two weeks ago, he finished our editorial year writing about the old one, in what turned out to be the most poignant piece of writing we've published so far.
The playlist also has a pair of unofficial inner bookends — the most deranged rap rants of the year. The first, RXKNephew's "American tterroristt," was technically released in late December 2020. De facto, though, it's part of 2021's hip-hop lexicon, setting the stage for a new, freer iteration of the genre—one of the form's most exciting innovations in years, but I digress. The playlist's penultimate track, RX Papi's "Therapy Session" (from March) is twice as long as Nephew's tirade and perhaps even more unhinged.** Theirs is an energy we might all do well to carry with us into the year ahead.
Now, without further ado, I give you, our faithful readers, 2021 in 365 songs***:
---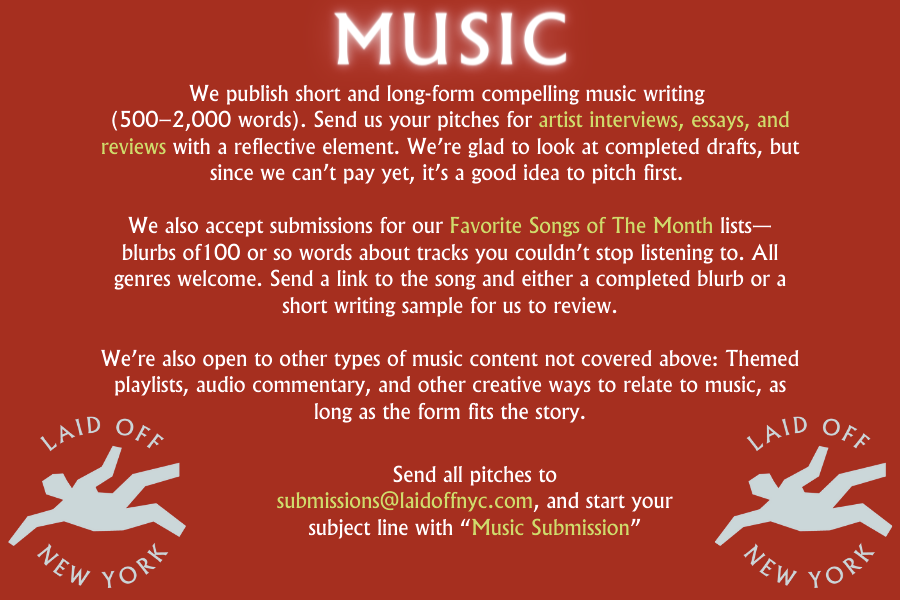 Lead image by Jda S.G.
*We loathe the fact that we need to use Spotify here, but it's still the best way to reach the most people until Bandcamp creates a playlist function (when?!). Of course, there are many artists we love who have chosen to keep their music away from the devil's platform, leading to the sad eventuality of them not appearing on this playlist. We raise our glasses to these soldiers in the fight for a fairer music industry. We wish we were as strong.
**Aside from these border anomalies, the playlist is in roughly chronological order by release date.
***As it turns out, our CMS only presents up to 100 tracks of a Spotify playlist. Click the top of the embedded list, or this link, to view it in full.
---