by Raphael Helfand
Charles Riley was born in Chicago in 1988 and moved to Memphis shortly thereafter. It only took him a few more years to find his calling. At 11, he was introduced to Memphis Jookin, a dance style that originated in the '80s as Gangsta Walking and flourished alongside a booming underground hip-hop scene. He adopted the name Lil Buck and was quickly noticed by some of the scene's legendary figures. But he eschewed the traditional path of the local dance phenom; he was meant for bigger things.
In high school, Buck started taking ballet classes to upgrade his toe spins. They ended up teaching him the tools he needed to transcend his scene and reach the world stage. Since then, he's moved to L.A., performed with cultural icons from Yo Yo Ma to Madonna, and played his hero, Michael Jackson, in a Cirque du Soleil Vegas residency. He's starred in an AirPods commercial, danced alone in a room full of Mattises and Picassos at the Fondation Louis Vuitton in Paris, and been the subject of a documentary, Lil Buck: Real Swan, which premiered at the Tribeca Film Festival last year and will be wide-released in France on August 12. But as successful as he's been, he's never sold out his culture.
In the past few years, Buck has come out as an activist and educator. He's made it a mission to effect social change through dance, but even that has been secondary to his career-long journey to put Memphis Jookin on the map and give proper credit where it's due. On Wednesday at 1 p.m. EST, he'll go live on Red Bull Dance's Instagram and give an hour-long class, part history lesson, part dance clinic. He'll teach the fundamentals of Memphis Jookin, from the story of its formation to its foundational moves. Buck and I spoke via Zoom about his unlikely rise to superstardom and his responsibility to the city that fostered his flowering talent before it burst into bloom.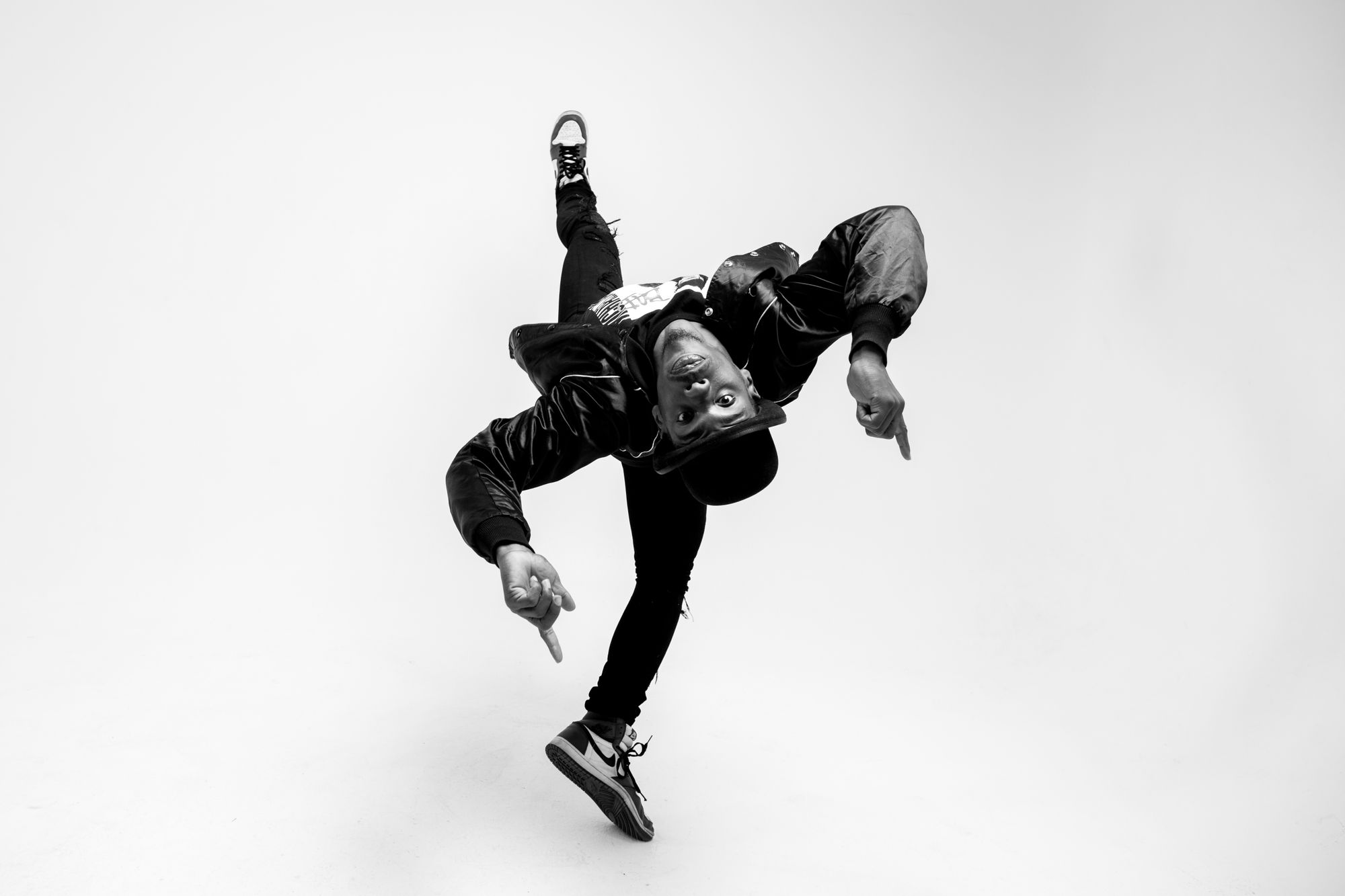 _________________________________________________________
You originally learned to jook from your older sister. Did you latch onto it because you looked up to her and wanted to follow her path?
My second oldest sister, Stephanie, got me into dance in general at a young age. She was a dancer for a long time, since I can remember. She doesn't dance as much now, but she was a majorette in college, captain of the team. She has dancing in her blood. We used to love watching Michael Jackson videos together and trying to learn the choreography. We were too poor to have toys, so to keep ourselves busy, we'd just dance. When she was in high school  she came home one day, and she'd learned this style of dance called jookin, which is native to Memphis. I fell in love with it because it was really close to what Michael Jackson did. And for me, moving to Memphis... A lot of people grow up into the style of Memphis Jookin. Their dads did it back when it was called Gangsta Walking. But I didn't have that. So basically, [Stephanie] got me into it and I fell in love with it. It was something close to Michael Jackson but accessible. I always thought, "Only the King of Pop can move like that." We didn't watch TV. We didn't have cable, so it was hard for us to see different dance styles, especially without YouTube around. I thought Michael Jackson was the only person who could glide that way. And then I started to see the kids on my street, who looked just like me and dressed just like me, moving just as crazy.
What was the scene like when you were coming up in it? Who were some of the major jookers you looked up to?
We moved around a lot. We lived with my aunt in South Memphis at first. I didn't see much jookin around there. I didn't tap into it until I moved to Westwood, which is almost outside of town, so even then… You had a lot of jookers in North Memphis and East Memphis, but not in Westwood. I started to see it through sheer luck, my friends getting a hold of videos that were circulating. Jookers back then would make DVDs of themselves dancing in skating rinks and garages and parking lots. The top jookers would get together and make these DVDs and sell them. So I'd get a hold of some of these DVDs, and that's when I was really introduced to the big players—Daniel Price and Gino and Cino and G-Nerd and Caviar Taylor and Dr. Rico—all these different dancers who were amazing, the best at what they did. These guys were my heroes, because I thought I was getting kind of good at it, but I had nobody around me to coach me or tell me, "You suck. You're not good yet."
There was just one key jooker in Westwood. His name was Mike—forgive me for not remembering his last name—and he was amazing. A lot of people looked up to Mike. When I found out he lived down the street from me, I would obsessively ride my bike over there to see if I could catch him in his garage, dancing. I only caught him a few times, and I begged him to let me watch and learn.
It was a lot of trying to learn on my own. I had some friends, one who we called Dale and his little brother, PeeWee, who were jookers in Westwood, but they weren't at the top. They just did it in their school and had fun with it. I was lucky enough to dance and train with these guys every day, trying to get a hold and a rhythm of the style. And there was this guy Jai Arrmmer—he's my manager now—who was a big part of the Memphis Jookin scene because he made the first nationwide, notable Memphis Jookin DVD, Memphis Jookin Vol. 1, and he asked me to be a part of it. His sister saw me dancing with this group I was in and told him about me. He brought everybody, all the good jookers, together in one big parking lot.
How has the scene changed in the past 10, 15 years, since you left Memphis?
It's changed a lot. It was more of a hobby back then. It was more something you did for the love of it. It was more social. It was a golden era. Everybody was coming together to do it. Everybody was having fun. There were a lot more battles. It was magic, man, especially for me. Like I said, it wasn't second nature to me. It wasn't something I grew up into, so I was just in awe of this whole world happening around me. I got blessed to be around these legends who took me under their wings once they saw me dance in that parking lot. Everybody was on that same mission to get better and bring it out into the world, especially when YouTube came about. Everybody wanted to do their part in making Memphis Jookin a well-known dance style.
Everybody's on the same mission still, but in different ways. It's not as social as it used to be. You still see people jookin every day and practicing together, but it's not how it used to be. It was a celebration back then, and it was big groups, man, big groups. Now it's trickled down a bit, and a lot of people have gotten older, gotten jobs. That's the one thing in Memphis, man: There's not a lot of opportunity for dancers to make a sustainable living, like there is in New York if you want to get into Broadway, or L.A. if you want to get into the commercial world.

How do you think Memphis has changed in general since when you were growing up?
Honestly, I didn't know a lot of things that were happening in the city when I was growing up there besides the dance, which is all I cared about. But I think Memphis is growing. There's a lot of change for the better that's happening. A lot of artists are starting to get recognition. Memphis is one of these places that people come to visit and take a little bit of that essence and do their own thing with it. Memphis has had a big influence on music and dance, especially mainstream hip-hop, how beats are being produced right now. Three 6 Mafia and Dj Squeeky and Zirk and Spanish Fly, all these guys made these beats with the triple hi-hat and that deep bass, and the cadence and the rhythm they had that just made you wanna bounce. Memphis had the first crunk, but we used to call it "get buck." Memphis birthed that sound, the way they used to mix up the different songs they would hear from New York and all these different places—Triggaman and all that stuff—and slow it down.
Memphis never got a lot of recognition for all these things they helped mold, but now it's coming back full circle. You hear Drake's music, A$AP Rocky giving praise to that Memphis sound and working with Juicy J and Three 6 Mafia. You get a lot of good artists coming out of Memphis as well. Yo Gotti finally got his shine. Three 6 Mafia's always been doing their thing, but now you've got Blac Youngsta, Moneybag Yo, Young Dolph, Kevo Muney, a lot of different artists coming out of Memphis doing they thing. It's a blessing, man. I think it's changing for the better. A lot of dancers are really starting to see that they can make it too, if they put a lot of effort into it. There weren't a lot of dancers making a living off it back in my era, because nobody knew what to do.

I was in Memphis last summer and I loved it, but I also saw some of the classic early signs of gentrification. I was wondering, what do people in the community generally  think of a place like Crosstown Concourse?
It depends, man. A lot of people see a place like that as gentrification, but a lot of people see it as growth for the city. We haven't had any place like that before. It's actually started to take in the Memphis Jookin community. It's given dancers a place to make videos and do what they want creatively. But people also know what's going on. They know it's a different type of people moving into their communities. It's a tug of war. We know what's happening, but we also know the value it's bringing to the city. People try to stigmatize Memphis as this place that's known for its crime rate and how crazy it is. They don't celebrate the value Memphis has.
You got into a pretty prestigious dance company when you were still very young. What was the transition like from jookin with your friends in parking lots to learning classical ballet in a more formal setting?
It was weird. I was always inspired by how Michael Jackson never said he was the best, but everyone knew he was the best. I wanted to be the best at something. I always thought I wasn't good at anything. I was more focused on Why are we so poor? and How can we get out of that? But as far as the transition, I wasn't just tied down to Memphis Jookin, and I think that's because I got into it before I knew the history of the dance. That came much later.
Basically, I got into [ballet] because I wanted to be the best dancer I could be, not just the best jooker. I always wanted to let myself grow. The beautiful thing about Memphis Jookin is it's a freestyle. It has its foundation and fundamentals; it's an actual dance style that you have to take time to learn. But at the same time, it's one of those rare dance styles where you use a lot of your own creativity and put a lot of your imagination into it. You don't have to do it one way. I let the music guide the way I speak in that language of dance. Memphis Jookin was born from Memphis underground rap, and it was predominantly danced to that. A lot of jookers didn't listen to classical music, but I've always been that weird kid that's into different types of music, whatever moves me. A lot of ballet music has an emotional attachment to it that's different than what we're used to listening to. It brings up a lot of different memories for me, and I've always enjoyed challenging myself to move to that.
I always wanted to set myself apart. You're trying to find yourself in the Memphis Jookin world, like, What makes you you in it? And I really liked the fun of being on my toes. I always wondered how to stay up there. One day the artistic director of New Ballet Ensemble saw me rehearsing in the dance studio with my hip-hop group. I was just messing around jookin, and she was in awe of what she was seeing. She urged me to be a company member.
New Ballet was a place with a lot of Black kids, a lot of white kids, a lot of kids from all creeds and races taking class under one roof, regardless of whether they could pay or not. I thought that was beautiful. I wanted to be one of the best dancers, period. So when I was approached to be a company member, I was like, "OK. Sign me up. I just don't wanna wear tights."

Yeah, that's on your Wikipedia page. What was the deal with that?
[Laughs] I don't even know who did my Wikipedia page. My manager's starting to take control of that now. But that's a true story; I didn't want to wear tights. I'm this hood kid coming from Westwood. I didn't want to be that kid where everyone's like, "Aw, this man wearing tights." I was cool, you know? I was finally at this place where people appreciated me for me. I always had trouble with that. We moved around so much, and I never really had friends like that until I was a part of the Memphis Jookin community. And I had a street mentality. I was like, "I ain't wearing no God damn tights." But I took this class, and I eventually learned that it was about the lines; it wasn't about looking a certain way.
We would do outreach programs with kids, and I was really good with them because they could relate to me. I was still that kid from the hood, and I knew how to jook, which they loved. But I was also a voice for the kids that wanted to take ballet but were scared that their peers would see them a certain way.
As far as my friends back in Westwood, nobody really knew I was taking ballet classes. The instructor's dad owned a taxi company, and she offered me free rides from my house to the studio, which was far, man. If you add all of that up with how long I was taking ballet, that was over $20,000 of taxis right there. I'm always grateful for the opportunity she gave me.

Did you ever have to make up a story to your friends about where you were going?
Not really. By the time I started to get really good, I had gained my confidence in dance and in myself. If it did come up, I'd just say, "I'm gonna be the best dancer in the world. You won't say this shit when I'm on TV." And my friends were all supportive. I had a lot of friends who were gangbangers, but I was that one guy who was doing something with himself, and they appreciated that. That's the beauty of the streets.

After you graduated high school, you started to blow up really quickly. You were on Ellen, and then Spike Jonze took that video of you dancing with Yo Yo Ma that went viral, and then you performed with Madonna at the Superbowl halftime show. That's pretty unprecedented attention for a 20-year-old dancer. How did you handle it?
I think I handled it pretty well actually, for a kid that was just being literally thrown into this other unknown world, straight from the hood at that. I think that helped protect me, though, as far as not taking shit and knowing bullshit when it came. At the same time, when you're a kid that's trying to make a change in your life, to buy your parents a house, that's the hood dream. So when these opportunities came, I didn't take them for granted. I worked my ass off and I came to L.A. to do whatever I had to do to become a better dancer.

Your next big milestone was the Cirque du Soleil Michael Jackson show.
I always wanted to do Cirque du Soleil. I used to audition for them, and at that time, I couldn't learn the choreography as fast as the other dancers could. When I learned it, I was killing it, but there were other dancers in L.A. that could just learn it like this [snaps] and move on. That was the pace when you were auditioning for something that big. I would audition and make it to a certain round and get cut. I knew my superpower was in my street dance. But I always wanted to do something with Michael Jackson, and that's the closest I could get to doing that.

Do you have any stories? They do some bizarre stuff. I'm assuming they're pretty interesting people.
I got lucky, because for that show, you had to rehearse for six whole freakin' months, building this whole show almost every day. That's a lot. But [director] Jamie King brought me on to do my own thing. He gave me the freedom to map out my own choreography for this character he had in mind called Wink who was pretty much the essence of Michael Jackson. He wanted to stay away from having any impersonators because nobody can really move like Michael. He wanted it to be as authentic as possible in a respectful way, so he honed in on the essence of Michael as far as his character, his shyness. I brought that magic out of Michael's bountiful wonderment.

What was it like having a documentary filmed about you at 30?
[Laughs] Yeah, I was thinking the same thing: my journey's not even at its peak yet. But it was an amazing feeling. When it started, it was more about Memphis. They were really interested in the city and in jookin. But the more they learned about me, they were like, "Damn, this kid's life is fucking incredible," and they wanted to capture that. It's amazing to be able to have my life story told. My mom's a big part of the documentary, and you get to hear from a lot of other jookers too. I see it as a big step for the jookin community and for myself.

You've done some activist work with Jon Boogz addressing police brutality.
We're addressing social issues that happen in our environment, things that stick with us, things we want to get off of our chests through movement. What's going on in the world right now affects everyone, but it especially affects people like us, Black and Brown kids, because we're the ones who wake up in the morning and look on the news and think, "That could've been me. That could've been my little brother." Me and Boogz have always felt that, so we started a company called Movement Art Is that brings awareness to these social issues, important issues a lot of people don't know about because they're in their own bubble. It also brings awareness to street dance and the power that it has outside of entertainment, as a tool to help tell important stories that create social change in our world. We wanted to elevate dance and, at the same time, bring awareness to our experience in America as Black men and women.

So you've been protesting police brutality through dance for a few years now. You've also done a lot of commercial work recently. What are your thoughts on how high-profile artists and corporations are responding to the current BLM movement? Are they doing all they can?
Not enough. It's a lot of powerhouse companies that gross millions and billions of dollars and have the resources to help create awareness, help people know this shit ain't right. But a lot of these companies are scared to do that because they don't want to lose customers that might not agree. They're afraid of the economic effect it could have, and that's just not the right way to think about it if you're really for equality in America. It's infuriating to think about. I'm not the biggest protester out there; I wouldn't call myself a major activist. I've just experienced these things personally, and I'm doing all I can to bring awareness. That's why we started MAI. That's why we create films about police brutality and mass incarceration.
Dance is a language too. I could argue with white people all day about my point of view, and a lot of them would just have their guard up. But when I'm speaking to them through movement, when I'm speaking to their hearts, they can feel what I'm going through, what I'm living. We get a lot of testimonials from people like, "Wow, man. That just made me feel you on that experience in a whole different way." I think it's a special way of communicating to the people. We use our dance as our protest.
Nina Simone is one of our biggest inspirations. She said, "You can't be an artist and not reflect the times" [paraphrased]. Michael Jackson reflected the times in his music. All these people we look up to weren't afraid to speak out, and they were huge artists; they made millions, the same way these companies do. There's definitely more that can be done besides posting a black square for #BlackoutTuesday. Put your money where your mouth is. Donate to grassroots foundations. Donate to Black Lives Matter. Help us create awareness and change.

Local music and dance scenes are always in a tough position. They want their art to be recognized on a world stage, but at the same time, they don't want it to be coöpted and stolen by people who weren't involved with its origins. It almost never works out both ways. How do you teach about the roots of jookin, and how do you feel they've been corrupted as the style has gone mainstream?
It's exactly what you just said: It's so hard for it to happen both ways. That's something I've learned throughout my mission. Jookin is a big part of Memphis culture. I wouldn't say it's our last prized possession, but it's one of them. It's really up to us, the people at the forefront of the style, to work as hard as we can to teach it the right way.
Some of us want to keep jookin a Memphis thing, to protect it, because there have been times in the past when dancers and choreographers would come to Memphis and see what we have going on, see that rhythm we got, and fall in love with it. And then they'd go out there and do it, and a lot of the time, they'd just say they made it up. They do that a lot in L.A. You see a lot of kids doing buckjumps*, not even knowing where they came from, not even paying attention to the words Memphis Jookin. That's part of why we called it Memphis Jookin and not just jookin, so more people would know where it came from and do their homework.
But Memphis Jookin is something that everyone can enjoy watching and doing. Like I said, it's up to us to bring awareness to it, but also to teach people the right way of doing it. We don't have a lot of opportunity in Memphis. In L.A., people learn anything to book a job, or to get views and boost their followings. They see that it's the cool thing to do, and they don't pay attention to the culture. There are a lot of kids around the world benefiting from Memphis Jookin, and there are a lot of kids in Memphis who've been doing it all their lives who aren't benefiting.
When you teach Memphis Jookin, you have to really teach them that it's something you can gradually grow into and get great at. It takes time to learn this dance style; it's not one of those trends. It's rooted socially, but it's not one of those quick social dances like the Hit Dem Folks (not to take anything away from those). That came from Memphis Jookin too.** A lot of people don't know that. It spawns from the Nae Nae and the cadence in the Nae Nae, that "Yahhhh." They say "Yah" now because we got on they ass for saying "Huah," which was a big thing in Memphis culture. Memphis Jookin is the godfather of all these different trending dances that are out now.

What are some things you'll be covering in the Instagram class?
I only have an hour, so I'm gonna try to give a brief education on the history of Memphis Jookin, how it started in the mid-'80s with a bounce. I'm gonna take you through bounce school. You've got to graduate bounce school first, because it's different cadences of that fluid-bodied bounce that get us from one point to another on the dancefloor. My choreography is gonna be based on the fundamentals. If you're coming to learn how to do toe spins, you're coming to the wrong class. I don't want to hop, skip and jump you. I want you to learn the basics in a fun way. So I'm just gonna take you through the basics, take you to bounce school, and educate you up here [points to head] as well as physically on the dance floor.

I'll definitely watch, but I can't really tell my left foot from my right, so…
Well, take the class then!
_________________________________________________________
The origins of dance styles are muddy and highly contested. I'm not a cultural anthropologist, but these are my attempts at disambiguation, based on the conflicting and largely unsourced accounts I was able to find online.
*The buckjump is a move characteristic of Memphis Jookin, stemming from the tradition of "getting buck." Buckjumping is also a blanket term for a style of dancing associated with New Orleans second line parades, as featured in the excellent documentary Buckjumping.
**The Hit Dem Folks and the Nae Nae are both generally considered to have come from Atlanta suburbs, though Memphis locals claim the moves are rooted in jookin.
_________________________________________________________
Check LONYC weekly our take on: music, film, food, fashion, politics, photography and creative writing. Follow us, feel the vibe @laidoffny.
Get to know Raphael better, @raphael_helfand  for all his latest stories.
*All photos curtesy of Tim Salez

---