Photos and Writing by Chris Weathered
Before Coronavirus, I was working two jobs. When I wasn't serving guests at a restaurant called SMOR, you could find me at Food & Finance High School. There, I helped to run School Grounds Cafe, a student-run cafe that served the neighborhood around the school as well as its students. It was amazing to witness the future cooks and culinary professionals sharpening their skills and always striving to learn more.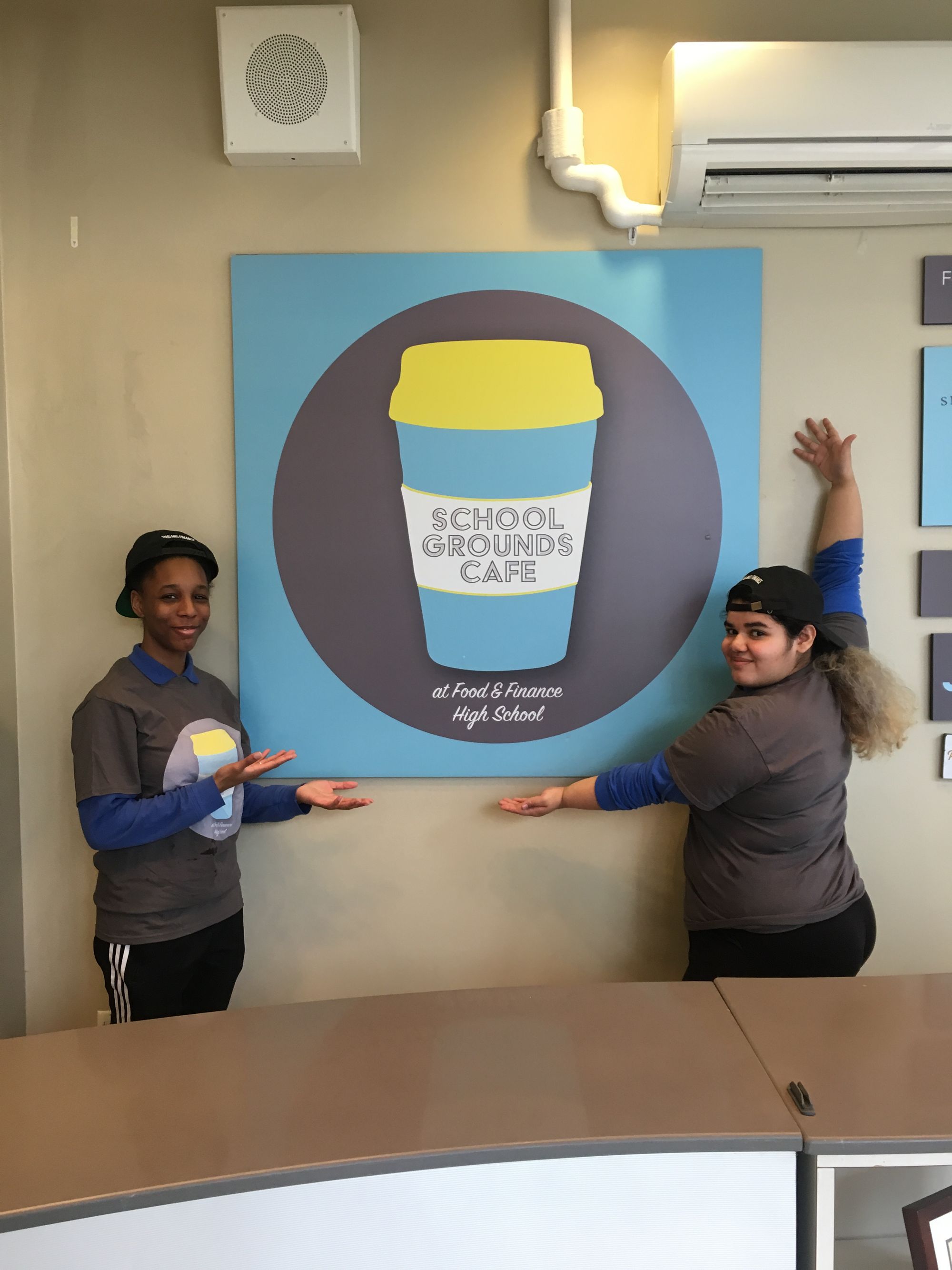 I was once in their situation, coming up in New York City trying to carve out my own slice of adulthood and probably growing up a bit faster than I needed to. The cornerstone of that journey was working in restaurants. At 15, I started bussing tables in the West Village; this space and job imbued new life into me. Though I was young, working those busy nights allowed me to see and feel like one of the adults–– a feeling that I think most teens yearn for during those years. I took that excitement from my first job and ran with it. I started working at as many New York restaurants as I could fit into my after school schedule, such as Malaparte, an Italian trattoria that has been a consistent and comforting people for years. From there I ended up making my way to Blue Hill at Stone Barns, Olmsted, and Hemlock where I had the opportunity to work with many creative and renowned chefs. Each step of the way I gathered as much perspective and experience as possible in an effort to establish my own identity in this talented yet saturated industry. I had hoped to put my newfound knowledge to use with personal projects like pop up dinners and working toward opening a restaurant with my family.
This time has tested all of us in ways that we would never expect. For my parents and me, it brought our hopes and dreams to a screeching halt. Five years ago, my parents were in upstate New York and ended up at a land auction not far from their country house. Next thing I knew, I'm getting a call from my mom. She can barely contain her excitement when she tells me, "We just bought a building in town". The building is on the old main street of Kerhonkson, NY, and had sat there for ages, untouched by anything other than years of corrosion and graffiti, which had given it some character during its dormant days. The two-story building showcases a beautifully aged yellow brick facade, and the ground floor is separated into two large spaces. Our plan is to build two apartment units upstairs, and run a restaurant and marketplace downstairs. Hoping to create a multi use space that's focused around food while welcoming and building alongside the flourishing upstate New York community.
Now, about 4 years later, the blueprints had been drawn up and construction is about a third of the way through. The apartments have been framed out, windows installed, and a solid roof now seals off the building from rain, sleet, snow or bears that had permeated the space while it was left vacant. We were making good progress, but we would soon be forced to stop all together due to the impending global crisis. The construction and plans for the project were put on hold indefinitely for the safety of everyone working. Yet, the cooking never stopped. I'm crossing my fingers, hoping that things will be able to start back up again so I can get my projects to a point where we can share them with the community.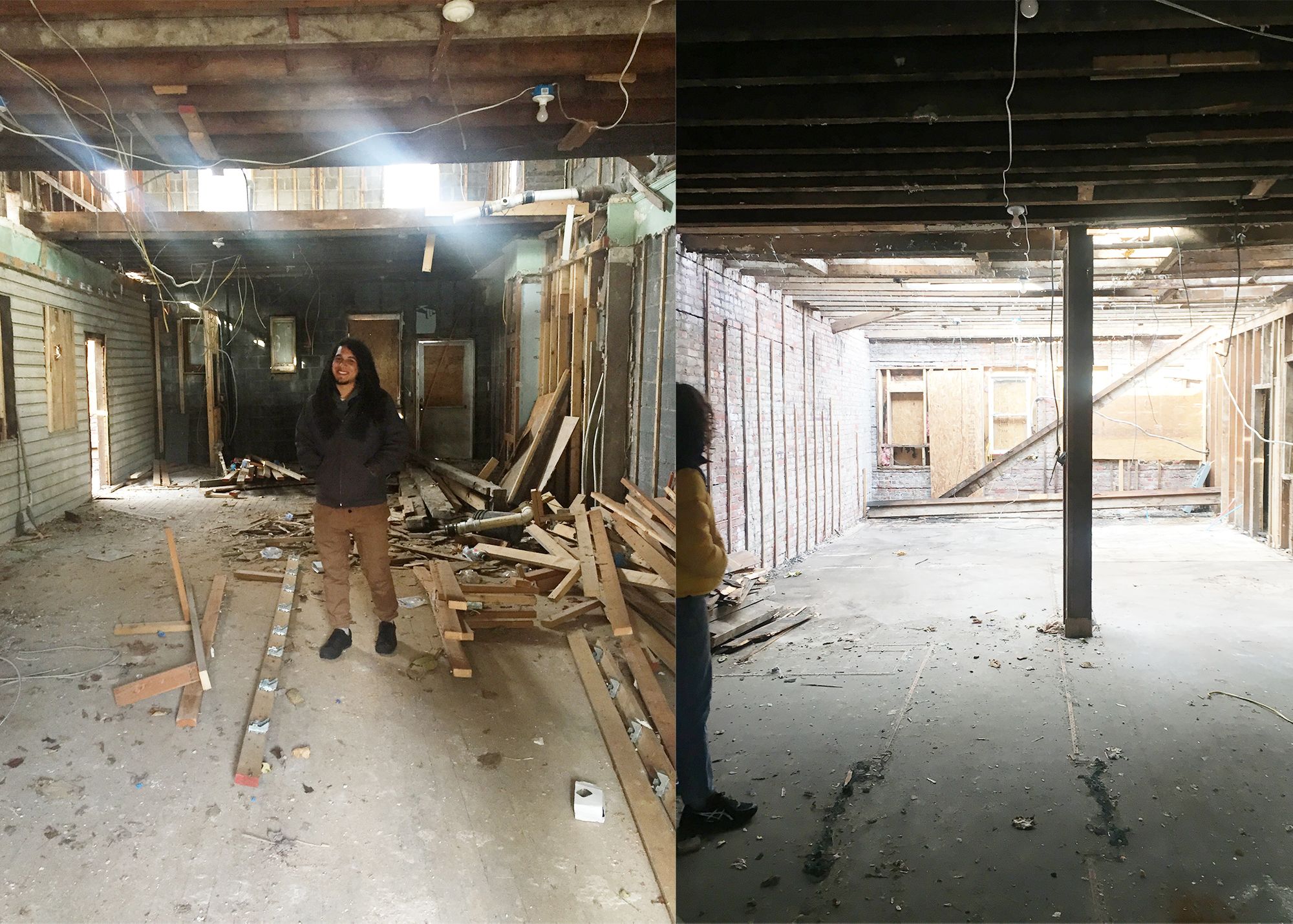 With these projects on hold, I've set small goals in an effort to stay present with whatever and whoever  I'm with rather than fretting over the unknown. Most tasks have been cooking and food related: I've started a small garden plot in the yard, built a meat-curing box to make my own charcuterie, and continued to work out the concept for our family restaurant. I'm fortunate to have been able to retreat from the city at my parents' country house upstate in Kerhonkson, NY. Being in nature has opened up other avenues for creativity that would have been much harder to tap into if I were back in my small, one bedroom apartment in chinatown–– although I love and miss it dearly.
I've lost track of how many days we've been in quarantine, but I think it's for the best. I've always been one to try and roll with the punches, so this time has helped me lean into that side of myself and see what rises to the surface. For those of you reading this, starting any project can be the hardest part, but I've tried to compile a few of my favorite recipes that can kickstart your creative flow and hopefully be a catalyst into finding delicious and new ways to entertain yourself and others.
---
Middle Eastern Grilled Leg of Lamb
Recipe by Chris Weathered
Yields about 10 servings (feeds about 8 hungry people)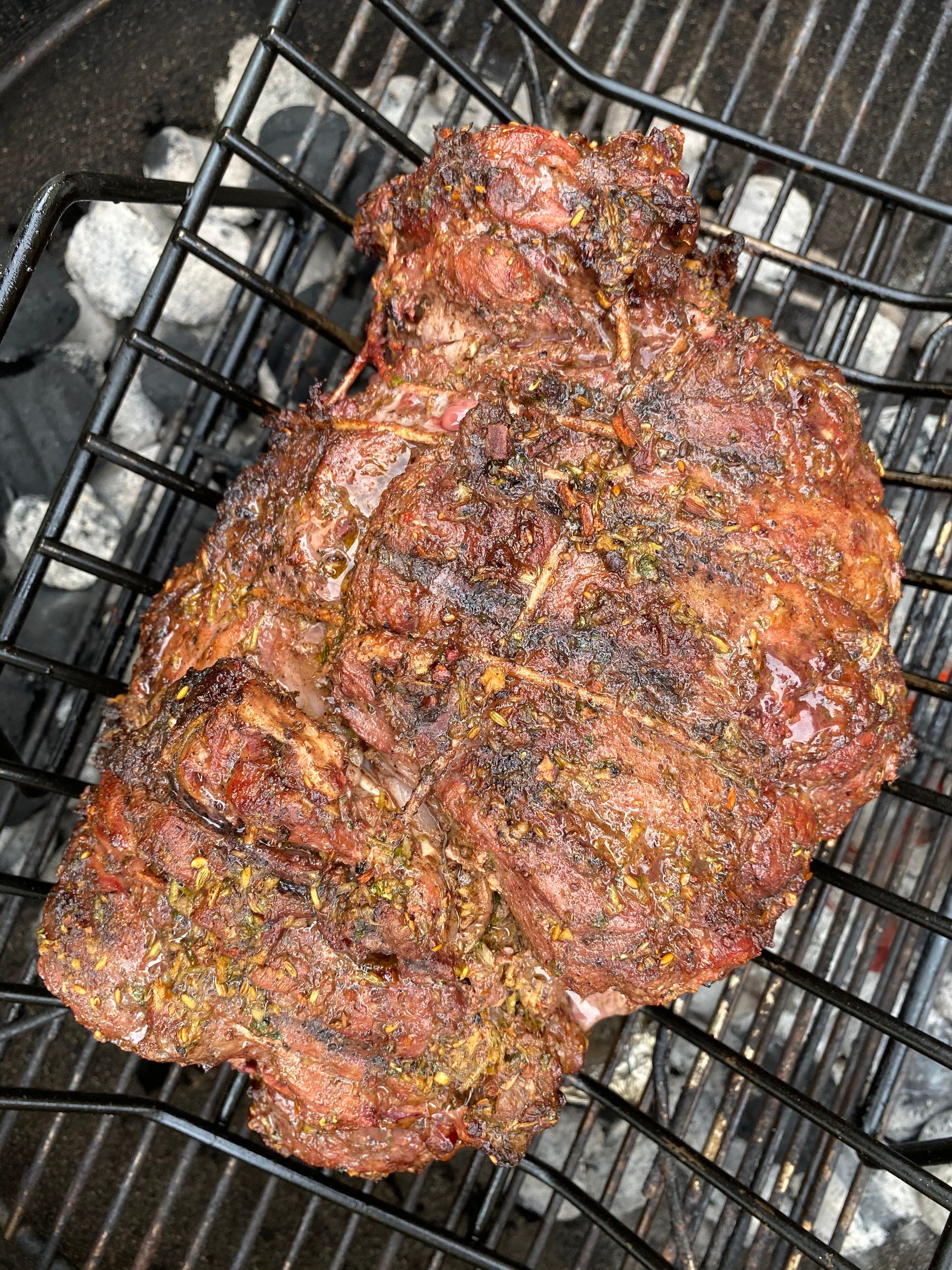 Chef's Note: You may use a pre-mixed spice blend of your liking, but this is a really authentic longhand way to create traditional shawarma flavors. If you're missing specific spices don't worry, just add what you have and go whatever route suites you best.
Ingredients
5-6 lb           boneless lamb leg
2 tsp             black peppercorns
5 cloves       garlic, minced
½ tsp           cardamom, ground
¼ tsp           fenugreek
1 tsp             fennel seeds
1 tbsp           cumin seed
1 tsp             cinnamon, ground
¼ tsp           ginger, ground
1 tbsp           paprika
1 tbsp           sumac
2.5 tsp         sea salt
1 ounce       fresh ginger, peeled and grated
2/3 cup         cilantro, chopped
¼ cup           fresh lemon juice
½ cup           peanut or grapeseed oil
Method
1. Fire up the grill; I'm using a Weber charcoal grill and cooking with indirect heat. I light the coals using the chimney method, where the coal is loaded into a cylindrical metal vessel that is placed in the grill with a couple pieces of paper and ignited from the bottom (wait about 15 mins, the coals are ready when they have begun to turn white).
2.  Carefully pour coals out of the chimney into the bottom grate of your grill in an even layer. Let it preheat to between 400 and 500 degrees while you prepare the lamb leg.
3. Combine the black peppercorn, cumin, fennel seed, cinnamon, paprika, ground ginger, sumac, fenugreek, cardamom, and salt  in a spice grinder or mortar and pestle. Grind until the spices are a coarse mixture.
4. Remove the spices from the grinder and place into a small bowl. Add the chopped fresh herbs, garlic and ginger and mix.
5. Using your hands, rub massage the spice mix onto all sides of the lamb leg and let sit covered in the refrigerator for at least 4 hours or overnight.
6. Once the grill is preheated, use tongs and an oily rag to swiftly brush the grill grates in order to avoid sticking. Place the prepared lamb directly in the center of the grill and close the lid.
7. Cook the lamb for 3 hours, checking and turning it every hour until a thermometer reads just over 150 degrees and there is a deep golden brown color, and some char on the all sides. Remove the lamb from the grill and let it rest for at least 30 minutes before slicing and serving with side dishes.
---
Preserved Lemons
Recipe by Chris Weathered
Yields about 1 quart preserved lemons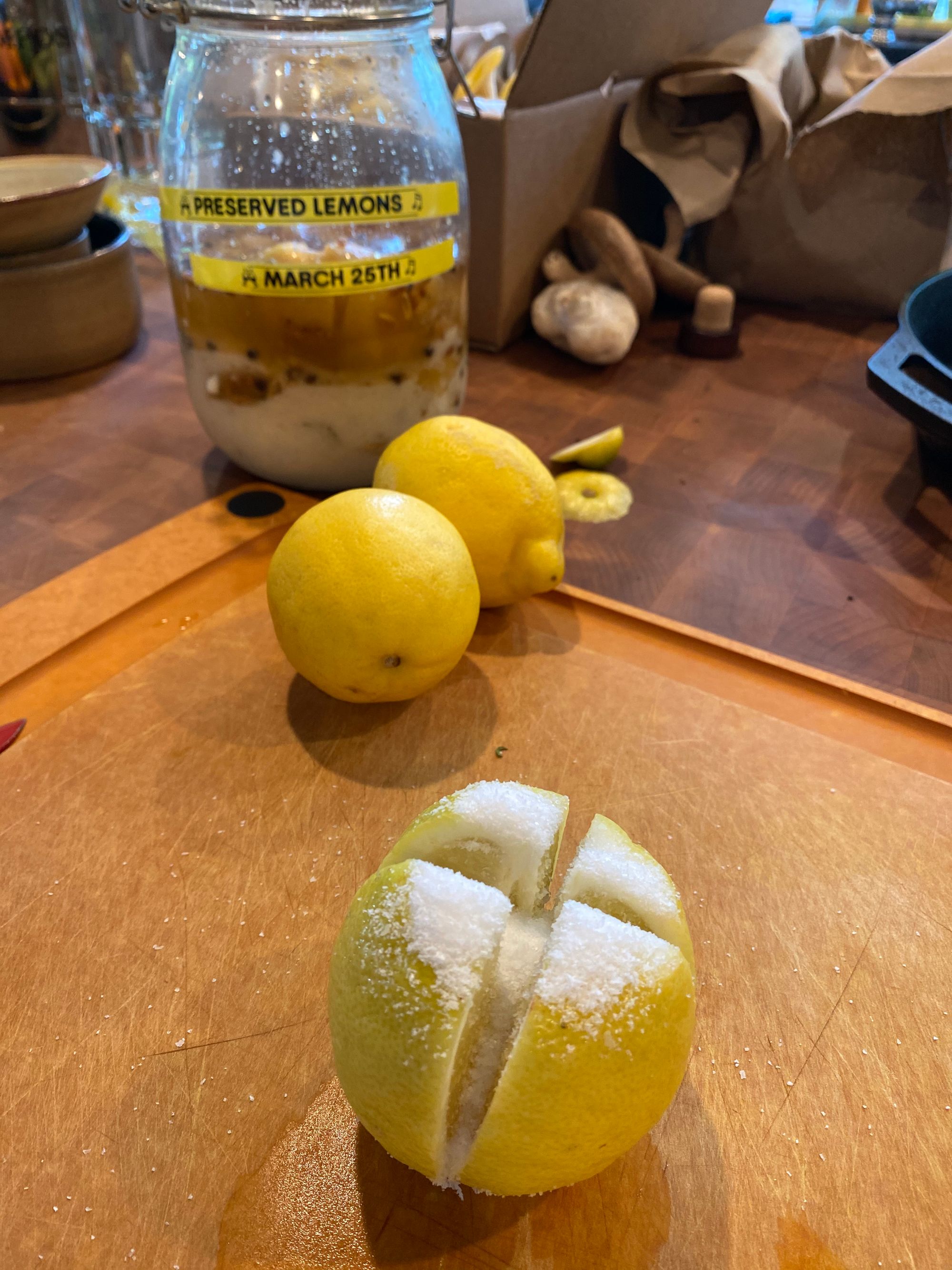 Ingredients
Special tools: Half gallon glass jar
8 whole       lemons, or as many will fit in your jar
to taste         kosher salt
3 each           bay leaves (optional)
1 tbsp           black peppercorns, whole
Method
1. Rinse lemons under cold water and slice off the navels at each end, just enough to reveal the pith, or white flesh.
2. Place lemon cut side down on a cutting board. Slice lemon in half vertically, making sure to cut only 3/4 of the way through. Turn 90 degrees and cut again. The lemon should be in quarters, but still fully intact at one end.
3. Salt the inside of each lemon generously, then place it into the glass jar.
4. For every 2-3 lemons add about ¼ cup more salt to the jar.
5. Once all the lemons are in the jar, press down to release juice using a large wooden spoon or any long and sturdy kitchen tool until the lemons are covered in salt and juice. Add more lemon juice to cover, if need be.
6. Let sit for 3 weeks, making sure to check in every week and shake the jar lightly to redistribute mixture over lemons.
7. The lemons are ready once the rinds are tender/flexible. To use them, rinse off the salt and use a peeler to remove the rinds. Pairs well with anything from Moroccan chicken stew to a jazzed up green goddess salad dressing.
---
Roasted Carrots with Preserved Lemon Salsa Verde
Recipe by Chris Weathered
Yields about 5 servings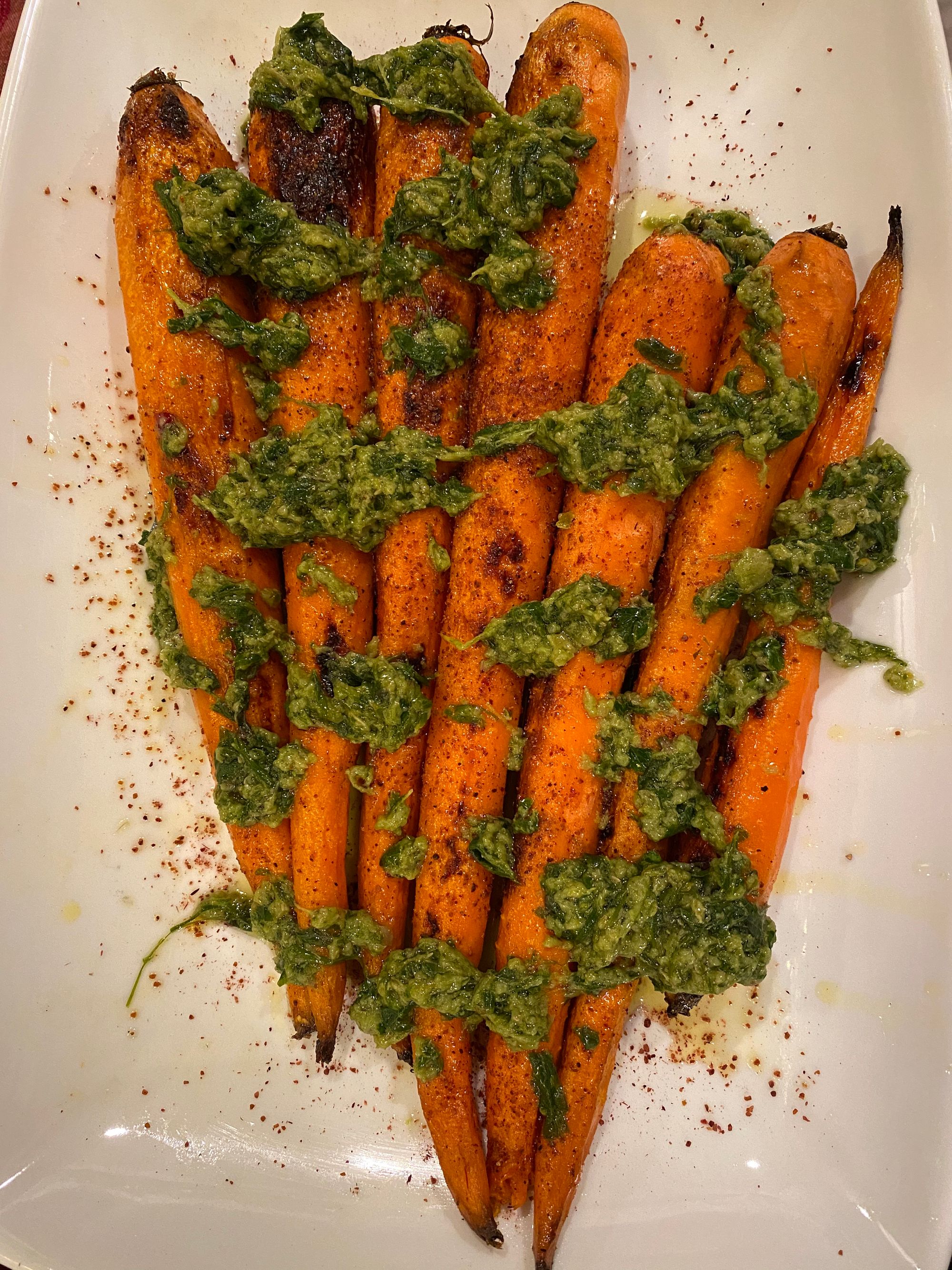 Ingredients
2 pounds       Whole carrots, washed and peeled
½  each         preserved lemon, rinsed, rind peeled and reserved
½  cup         mixed herbs (chives, parsley, basil, thyme)
1 tsp             capers, whole
½  tsp           freshly ground black pepper
1 tsp             sumac
1 tsp             lemon zest
2 tbsp           lemon, juiced
~¼ cup         grape seed or neutral oil, plus
Method
1. Preheat the oven to 450 degrees.
2. Peel carrots and place into a baking sheet with a drizzle of oil, salt and pepper to taste, and place into a heated oven to roast for about 25 minutes.
3.  Meanwhile, prepare the salsa verde. Add the preserved lemon rind, capers, herbs, sumac, black pepper, lemon zest and juice into a food processor and pulse to combine. Slowly drizzle oil into the food processor to emulsify the mixture into a glossy and smooth paste.
4. Check on the carrots. When the carrots are tender and can be pierced easily with a fork, remove them from the oven and place on a large serving platter.
5. Drizzle the salsa verde over the carrots and serve warm.
---

Check LONYC weekly our take on: food, fashion, film, photography, politics, music and creative writing. Follow us, feel the vibe @laidoffny.
Get to know Chris better, @w3ath3rh3ad for all his latest culinary endeavours.
---